President of the Fédération Internationale de l'Automobile (FIA), Jean Todt arrives in Guyana today for a two-day visit and among the items on the agenda is a meeting with President Donald Ramotar.
Todt's visit is being facilitated by the Guyana Motor Racing and Sports Club (GMR&SC) who body was yesterday preparing feverishly for the visit of the top motor racing administrator.
Apart from his meeting  with President Ramotar, Todt and his high powered delegation will also meet with Minister of Culture, Youth and Sport Dr. Frank Anthony, Minister of Tourism, Irfaan Ali and Minister of Home Affairs, Clement Rohee.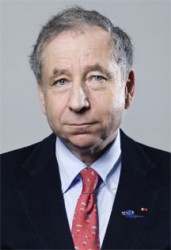 Todt's visit here is geared towards making improvements to the motor racing industry.
He will also look at ways in which certain initiatives can be implemented aimed at improving road safety.
The Guyana Motor Racing and Sports Club (GMR&SC) will also host an official dinner in honour of Todt's visit at the Cara Lodge.
Todt, a French motor sport executive, had a successful career as a rally co-driver and made his reputation in motor sport management, first with Peugeot Talbot Sport, then with Scuderia Ferrari, before being appointed Chief Executive Officer of Ferrari from 2004 to 2008. Since October 23, 2009 he has been President of FIA.
FIA is the governing body for world motor sport and the federation of the world's leading motoring organizations. The FIA, a non-profit association founded in 1904, brings together over than 230 national motoring and sporting organizations from more than 135 countries on five continents. It's member clubs represent millions of motorists and their families.today
Around the Web