Former World International Boxing Association (WIBA) bantamweight champion, Shondell 'Mystery Lady' Alfred said she is hoping to resume her career in another three or four months following the birth of her baby daughter.
"I delivered a healthy baby girl after a long day of labour. We are both very tired but we fell in love the moment we laid eyes on each other. I feel so blessed and overwhelmed with love and excitement," Alfred told Stabroek Sport.
The 31-year-old Alfred also has a five year-old son named Cameron.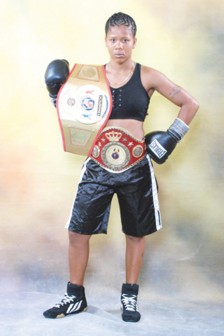 The baby's name is still to be decided but "The Mystery Lady" who won the WIBA championship in 2009, has already decided on a ring return some time next year after the pregnancy forced her out of a world title bout last November.
Alfred was scheduled to fight Mexican, Zulina Munoz for the vacant World Boxing Council (WBC) super flyweight title in Mexico City eight months ago but doctors called off the bout 24 hours prior due to the positive pregnancy test.
"I am hoping to get back in the gym in the next three to four months," Alfred told Stabroek Sport.
"I also hope that the WBC stays true to their word about allowing me to fight for the title once I get back in shape," she added.
Alfred has a professional record of 13 wins and five losses.
Around the Web