Defending senior Caribbean Area Squash (CASA) champions Chris Binnie of Jamaica and Nicolette Fernandes of Guyana continued their smooth sailing as action in the men's and women's singles divisions of the Digicel, PowerAde and Smalta-sponsored tournament continued yesterday at the Georgetown Club courts.
The 24-year-old Binnie, of Jamaica, easily disposed of Barbadian Gavin Cumberbatch in straight sets 11-6, 11-4, 11-9 yesterday while the world-ranked Fernandes, at number 28 the highest ranked female player in the tournament, not to be outdone, breezed past fellow Guyanese and former Caribbean junior squash champion Keisha Jeffrey 11-5, 11-7, 11-2.
Guyanese Richard Chin overcame Jamaican Bruce Burrows 9-11, 11-8, 12-10, 11-2 while Cameron Stafford of the Cayman Islands defeated Trinidad and Tobago's Mandela Patrick 11-4, 11-5, 11-8. In another all Guyana match-up Sunil Seth defeated Alexander Arjoon in a closely fought contest 8-11, 11-9, 5-11, 11-10, 13-11 while the Cayman Islands' Julian Jervis easily defeated Barbadian Zaki Williams 11-6, 11-2, 11-2.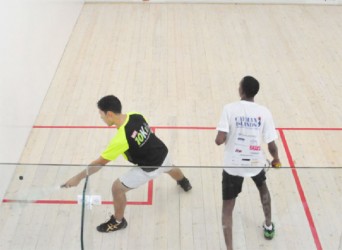 Guyanese Kristian Jeffrey disposed of countryman Raphael DeGroot 11-6, 11-7, 11-6  after DeGroot had edged Peter Pirtheesingh of Trinidad and Tobago 11-9, 11-12, 9-11, 11-6, 11-8.
Kevin Bailey of the Organization of Eastern Caribbean States (OECS) defeated local competitor Robert McDavid 3-11, 11-9, 11-8, and 11-9 while Trinidad and Tobago's Chase McQuan defeated Guyanese Ben Mekdeci 11-5, 11-6, 11-7 to conclude the male matches for the day.
In the women's competition Ashley Khalil defeated Victoria Arjoon 11-6, 11-3, 11-7; Mary Fung-a-Fat overcame Gylla Mackenzie of Barbados- 6-11, 11-7, 5-11, 12-10, 12-10 and Barbadian Karen Meakins downed Ashley DeGroot in straight sets 11-8, 11-5, 11-8.
In the women's plate competition Larissa Wiltshire defeated Jamaican Nathlee Boreland 11-7, 11-8, and 13-11 while sibling Akeila Wiltshire defeated Taylor Fernandes 5-11, 11-5, 11-1 and 11-3.
In an all local affair, Kathy Shuffler-Ten-Pow defeated Gabby Fraser 11-9, 9-11, 11-4, and 11-5. Barbadian Nadia McCarthy defeated countrywoman Amanda Haywood 11-9, 11-7, and 11-5 in the final women's plate fixture. In the men's super plate division, Jamal Callender edged Ryan Farnum in a five set contest by a 3-2 score line whilst Dane Schwier of Jamaica defeated Jason Ray Khalil also in a five set contest 3-2. Concluding the matches for this section, Kale Wilson of Trinidad and Tobago defeated Bryant Cumberbatch of Barbados by three sets to one.
Around the Web