MOSCOW, (Reuters) – Move over Usain Bolt, Shelly-Ann Fraser-Pryce stole your thunder. In 10.71 seconds of pure sprinting power yesterday the colourful and diminutive Jamaican outdid the sport's great showman for razzle-dazzle.
Twenty-four hours earlier, with lightning flashing around the Luzhniki stadium, Bolt streaked through the Moscow rain to regain his 100 metres world title but it was more workmanlike than wow.
Her long hair flowing and decked out with pink extensions, Fraser-Pryce packed a punch that left her rivals trailing in her recycled air as she added a second world crown to her 2009 Berlin success.
The emphatic manner of the double Olympic champion's victory was in stark contrast to the thrilling finale of the women's 400 metres in which late-lunging Briton Christine Ohuruogu pipped Amantle Montsho by four thousands of a second.
Botswana's Montsho, the 2011 world champion, failed to dip at the line and it cost her gold by the finest of margins. "I did not see Christine coming from behind," she said.
American David Oliver secured his first global title at the age of 31 when he took the men's 110m hurdles gold in a season-leading time of 13.00 seconds and New Zealand shot putter Valerie Adams became the first woman to win four successive world titles.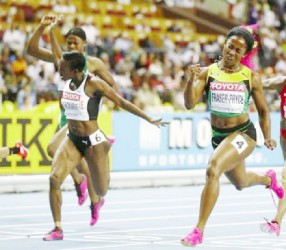 Four American women lined up in the 100 final but it was Fraser-Pryce who once again hammered home Jamaican dominance of the sprint events.
The 26-year-old pocket rocket flew down the home straight in the best time this year, with Murielle Ahoure of Ivory Coast a distant second in 10.93 and 2011 champion Carmelita Jeter of the U.S. a hundredth further back in third.
"I didn't let any distractions get in," Fraser-Pryce said. "I knew I just needed to get my start right. It's my strength."
While Fraser-Pryce celebrated, the darker side of the sport was again in focus after Trinidadian officials confirmed that 2011 bronze medallist Kelly Ann Baptiste and fellow sprinter Semoy Hackett had left Moscow due to doping-related matters "of varying degrees and complexity."
The fans that made up another below-capacity attendance inside the Luzhniki were treated to the best finish so far as a never-say die Ohuruogu ate up the ground to reel in a startled Montsho.
Both athletes faced an anxious wait before the video screen placed the 2007 world and 2008 Olympic champion first in a time of 49.41, the same as Montsho's.
"It is really weird," said Ohuruogu after breaking a 29-year-old British record. "After the race, I did not want to get too excited."
Oliver's joy was unbridled after eclipsing compatriot Ryan Wilson (13.13) and Russia's Sergey Shubenkov (13.24) in the hurdles.
"I've worked so hard for it," said Oliver who missed last year's Olympics following a wretched time with injury.
DULY DELIVERED
Adams had few rivals capable of denying her another shot put gold and she duly delivered with a best effort of 20.88 metres, well clear of Germany's Christina Schwanitz (20.41).
"It's been an amazing evening. I'm just stoked, I'm over the moon," said the New Zealander.
Germany's Raphael Holzdeppe was a surprise winner of the men's world pole vault as he edged red-hot favourite Frenchman Renaud Lavillenie, the Olympic champion, on countback.
Both men failed three times to clear 5.96 metres but the German had been faultless in moving up through the heights to notch 5.89 and add world gold to his Olympic bronze last year.
Poland's Pawel Fajdek rose to the occasion when it mattered, his 2013-leading 81.97 metres in the hammer throw proving decisive.
Ukraine's Ganna Melnichenko was in pole position after day one of a heptathlon event missing Olympic champion Jessica Ennis-Hill and Russian world champion Tatyana Chernova.
Melnichenko sits overnight on 3,912 points, ahead of Dafne Schippers of the Netherlands on 3,837, American Sharon Day (3,836) and Canadian Brianne Theisen Eaton (3,810), who married decathlon Olympic and world champion Ashton Eaton last month.
The leading protagonists for the men's 400 metres title, Kirani James and LaShawn Merritt, progressed into Tuesday's final which should produce a fascinating duel between the current and former Olympic champions.
Around the Web