MOSCOW, Russia, CMC- Jehue Gordon gave the people of the Twin Island Republic of Trinidad & Tobago reasons to smile with a golden 400m hurdles run yesterday's 6th day of the 14th World Athletics Championships here at the Luzhniki Stadium.
Gordon, who looked impressive through the rounds of the men's 400m hurdles, fought gallantly in the final to take his country's first ever 400m hurdles gold.
The Golden run should also wiped away some of the sadness brought on the country by the last week's withdrawal of sprinter Kelly-Ann Baptiste.
The 21-year-old Gordon, who found himself trailing entering the straight, never look troubled as he went into over drive and first moved pass Puerto Rican Javier Culson.
But even at this stage when American Michael Tinsley, who had threatened to run away with the title, Gordon held his composure and pushed harder in the last 50 metres, then dipped at the line to edge out his competition clocking 47.69, a personal best and world leading time, to 47.70.
Gordon's victory is the second such for Trinidad & Tobago, a small Caribbean country, which was handed its first world title in 1997 by Ato Boldon in the 200m.
Trinidad & Tobago's born Kerron Clement, who now represents USA, for whom he won the title before, gave credit to Gordon, describing him as "a great competitor."
"Jehue is a great competitor, he is young, talented, he stayed focus throughout this season and he peaked at the right time," said Clement, who was 8th in the final with 49.08ses.
Nickeiska Wilson, in the women's 400m hurdles, finished 8th in 57.34m. Zuzana Hejnova of Czech Republic won the final in a world leading 52.83 ahead of USA's Dalilah Muhammad 54.09.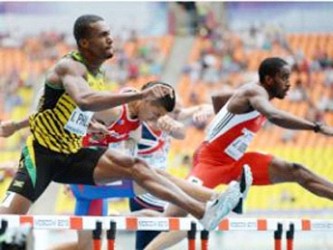 In another final, the women's triple jump, Kimberly Williams' best of 14.64m was not good enough to earn her a medal. She was fourth in the final, which went to Carerine Ibarguen of Columbia 14.85m. Russia's Ekaterina Koneva was second with 14.81m.
Bahamians Donald Thomas cleared 2.32m for 6th while his teammate Ryan Ingraham got over the bar at 2.25m. Ukraine's Bohdan Dondarenko with 2.41m won the event.
Around the Web