On a windy Sunday afternoon at the Seawall Bandstand, last year's senior road race champion, Orville Hinds returned to his triumphant ways by blowing away a star studded field to emphatically win the feature 30-lap event of the inaugural Bryden and Fernandes Classic yesterday.
Hinds' victory was so dominant that he lapped almost the entire star-studded field of riders. Only national cyclists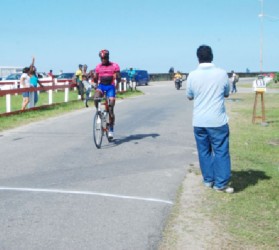 Michael Anthony (second place finisher), Godfrey Pollydore (third) and Robin Persaud (fourth) escaped the wrath of Hinds' wheels.
Junior star cyclist, Shaquille Agard placed fifth while the inform Alanzo Greaves, winner of 12 races on the local circuit rounded out the top six.
Besides the winner's trophy, Hinds of the United Cycle Club also carted off three sprint prizes.
Pollydore pocketed four while one apiece went to Persaud, Agard and Greaves.
The feature event of the 11-race programme organized by the Roraima Bikers Club (RBC) pedalled off at a fever pitch pace with Greaves taking it to rest of the starters from the smoke of the pistol.
As expected, the peloton pursued and reconnected with the national rider.
Throughout the entertaining event, there were several groups of riders who staged unsuccessful mini breakaways until Hinds, arguably one of Guyana's most talented and strongest cyclists changed gears.
With seven laps to go, Hinds pounced on the chasing pack which failed to respond and never looked back, lapping all but four of the 50-odd starters. Other winners at yesterday's meet were Pollydore (Category One to Three, Five- lap event), Win and Out  (Pollydore), Ian Jackson (Veteran's Under-50 Years), Virgil Jones (Veteran's Over 50 Years),  Ozia McAlley (Mountain Bikes Open), Jamal John (12-14 Years Juveniles and Females), Hazina Barrett (Females) Delroy Hinds (Juniors/ Category Four) and John (BMX Open).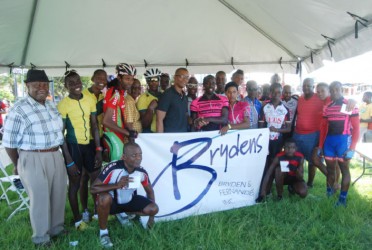 According to president of the RBC, Brian Allen, the event was a huge success.
Marketing Executive of Bryden and Fernandes, Mark Kendall congratulated the winners and stated that he "sees talent in the local cyclists." Kendall also noted that this is one of the events that he envisions Bryden and Fernandes supporting in the future as his company was  honoured to play tits role in the development of sport in Guyana.
Entertainment was provided by Ground Effects Sound.
Around the Web