President of the East Coast Cricket Board (ECCB) Bissoondyal Singh yesterday said that the club's 13th annual cricket academy will aid in the improvement of each participant and also the general standards of Guyana's cricket from the youth level to the senior cricketers.
The five day programme was launched yesterday at the Lusignan Community Centre under the theme "Cricket – Professionalism and Healthy Lifestyle," for players under 16 years of age.
University of Guyana Professor and historian, Tota Mangar, urged the  participants,  who came from Ogle to Abary, to take full advantage of the opportunities being offered to them during the five-day programme.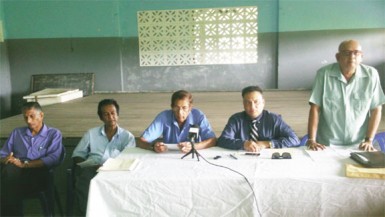 "I would like you to take is very seriously, take full advantage of the academy, you will benefit in the long run because cricket is not only played nationally but also internationally," Mangar noted.
He also spoke of the benefits of the academy and stressed that in addition to the technical aspects of cricket, the youths would learn other important aspects of life skills pointing out that unlike yesteryear cricket was now very commercialized and was serious business.
Mangar applauded the ECCB for the continuous effort in organising such academies.
"This initiative by the ECCB is very laudable and it comes against a background of a lot of problems facing national cricket administration in Guyana," he said.
He concluded by highlighting that there is a prolonged crisis which has left the national cricket administration in disarray and said that the
ECCB remains committed to the development of the game, despite the challenges  which was indeed laudable.
Singh confirmed that approximately 40 young cricketers, including 10 females, had registered for this year's programme. "I don't want at the end of this academy you have a certificate on your wall to show your friends that you attended the ECCB academy. We want to ensure that each of you become better citizens who can make a contribution to our beautiful country," Singh declared.
He also pointed out that cricket today was not only a game, but big business where millions are invested and numerous job opportunities created.
"You cannot only become well paid cricketers, but also scorers, umpires, journalists, commentators, curators and coaches, where you can make a living from cricket," he said  while urging other boards to conduct exercises like this one in an effort to help aspiring cricketers to hone their skills in the correct manner.
Former ECCB president and founder of the academy, Shame Kumar Singh told the young cricketers that they were fortunate to be part of such a programme, as the academy will teach them skills outside of being a good cricketer.
Kumar Singh also said the contents of the programme  were good and urged the youngsters to take full advantage of what will be offered to them.
Several resource personnel will entertain thought-provoking discussions on cricket related and other topics during the seminar. Statistician, Edwin Seeraj, will speak on the history of West Indies cricket while national umpire Davteerth Anandjit will discuss the laws of cricket and International book scorer, Sidartha Anandjit will deal with the intricacies of the scoring system.
Officers from the Cove and John Police Station will tutor the participants on road safety practices, while former executive of the Guyana Cricket Board, Ronald Williams will discuss careers in cricket and discipline.
Participants will also receive lectures on drugs and sports by Darshanand Rampersaud, the importance of education by former school senior master Judister Rampersaud, Leadership and Sportsmanship by former West Indies cricketer Colin Stuart.
Other topics such as HIV and teenage Sex will be touched on by social worker, Ms. Runuka Anandjit, while Food and Nutrition classes will be given by officials of the Ministry of Health and Social Etiquette/Grooming and Discipline by Dr Richard Persaud of Suriname.
Facilitators for the camp are coaches Daniel Richmond and Latchman Yadram. The academy will conclude on Friday when the participants will be presented with certificates of participation.
Around the Web