ST JOHN'S, Antigua,  CMC- Jamaican fast bowler Sheldon Cotterell, who created an impression with his pace during the preliminary round of the Caribbean Premier League (CPL), says his burning ambition is to play cricket at the highest level. Cotterell who caused a stir due to his ability to bowl in excess of 140 kilometres per hour, his eight wickets in the tournament as well as his military salute upon claiming a scalp, is also anticipating a pick on the upcoming West Indies A team tour to India.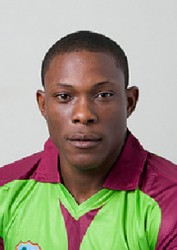 "My ambition? I only have one ambition and that is to play cricket at the highest level (I can)," said Cotterell.
"West Indies Test cricket – that is my pride and joy. Whether playing for my club or my country, my goal has always been to make it to the West Indies senior team."
The left- arm bowler who celebrated his 24th birthday on Monday has seen his profile soar after enjoying a tournament that has been successful for him.
The Jamaican pacer has also been recognized for his distinctive celebration – a straight-backed military salute. "I am a Jamaica Defence Force soldier and I take pride in my work," he said.  "In Jamaica we would say that it (the military) is my bread and butter and my saluting is just to show my co-workers and my superiors I respect them very much.  I respect what I do and I enjoy it."
Cotterell is set to be a spectator as the LCPL reaches a climax at the Queen's Park Oval in Trinidad this weekend.
"I was hoping to spend my birthday travelling to Trinidad but that was cut short (by defeat to Guyana Amazon Warriors on Saturday in the side's final league match)," said Cotterell.
"I was hoping my team could make the semi-final but unfortunately we did not."
The inaugural Limacol Caribbean Premier League features two semi-finals Thursday and Friday before Saturday's final.
Around the Web