LONDON, (Reuters) – Steve Smith reached his maiden test century with a six as Australia, trailing 3-0 in the series, took control of the fifth and final Ashes test against England at the Oval yesterday.
The Australian all-rounder finished on 138 not out in his team's imposing 492 for nine declared. At the close of a rain-affected day England had battled to 32 for no wicket in reply. "I'm very happy to get the 100 under my belt, I feel like my game's going okay at the moment, I'm probably leaving the ball better than I have done before," Smith told the BBC.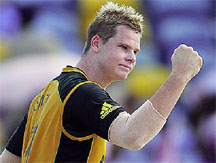 "The pitch is still pretty good, while the ball is still hard it will be important to take a few wickets in the morning."
England openers Alastair Cook and Joe Root survived 17.3 overs to give the hosts some hope of avoiding the follow-on but they still trailed the touring side by 460 runs when bad light forced the players off a few minutes early.
Australia resumed on 307 for four when play started 3-1/2 hours late due to rain and England fast bowler James Anderson soon bowled nightwatchman Peter Siddle for 23 with a peach of a delivery.
But Smith and Brad Haddin shared an untroubled sixth-wicket partnership of 65 as the England fast bowlers failed to take full advantage of overcast conditions.
Smith, 66 not out overnight, continued to find the boundary at regular intervals and England captain Cook was forced to turn to part-time medium-pacer Jonathan Trott.
Smith launched Trott cleanly over long-on for six to get to his first century in his 12th test, an innings spanning five hours and including two sixes and 14 fours.
"I was a bit nervous after getting out for 89 at Old Trafford but I had a chat with Hads and said with Trotty bowling I thought I'd give it a go," Smith said.
Trott did force Haddin, on 30, to chop the ball on to his stumps but Smith was joined by James Faulkner, making his test debut, and the pair took the touring side safely through to tea.
Australia went on the offensive after the interval, smashing 80 runs off the first 10 overs of the final session.
Faulkner was brilliantly caught by Trott running round from deep mid-wicket for 23 to give Chris Woakes his first test wicket and Mitchell Starc thrashed 13 before being bowled by Graeme Swann.
With the field spread wide Ryan Harris bludgeoned Swann for two big sixes and he added 45 for the ninth wicket with Smith before being caught and bowled by Anderson for 33 to prompt the declaration.
Cook and Root faced a hostile spell from the four-pronged Australian pace attack but the England openers played solidly and struck two fours each as they tried to avoid getting bogged down.
Harris and Siddle were the pick of the Australian bowlers, generating pace and some movement, but they were unable to break through and Cook, on 17, and Root (13), survived with few alarms.
Scoreboard
England first innings
A.Cook not out                                                                               17
J.Root not out                                                                                 13
Extras (b-1 lb-1)                                                                              2
Total (for no wicket, 17.3 overs)                                            32
Bowling: Starc 5-1-10-0 Harris 4-3-2-0 Faulkner 3-0-8-0 Siddle 5.3-1-10-0
Australia first innings
C.Rogers c Trott b Swann                                                          23
D.Warner c Prior b Anderson                                                    6
S.Watson c Pietersen b Broad                                               176
M.Clarke b Anderson                                                                   7
S.Smith not out                                                                          138
P.Siddle b Anderson                                                                  23
B.Haddin b Trott                                                                          30
J.Faulkner c Trott b Woakes                                                  23
M.Starc b Swann                                                                         13
R.Harris c & b Anderson                                                        33
N.Lyon not out                                                                            0
Extras (b-1 lb-12 nb-5 w-2)                                                   20
Total (for nine wickets dec., 128.5 overs)                     492
Fall of wickets: 1-11 2-118 3-144 4-289 5-320 6-385 7-422 8-446 9-491.
Bowling: Anderson 29.5-4-95-4 (1w), Broad 31-4-128-1 (4nb), Swann 33-4-95-2, Woakes 24-7-96-1 (1w), Kerrigan 8-0-53-0 (1nb), Trott 3-0-12-1
Around the Web