Aubrey Hutson, President of the Athletics Association of Guyana (AAG) said Guyana is keenly eyeing next year's inaugural International Association of Athletics (IAAF) World Relay Championship.
Hutson spoke with Stabroek Sport yesterday afternoon and said the AAG will be seeking to attend the inaugural championship which will be held at the new Thomas A Robinson Track and Field Stadium in The Bahamas in May.
The championship which is scheduled to include distance relays will see the AAG shortlisting a pool of athletes in the near future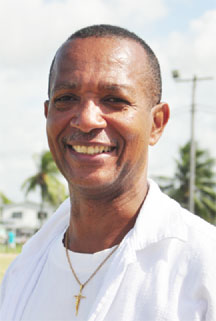 according to Hutson to select the team for the event.
"Yes we will be attending the games and will participate at least in one female and one male relay. We are looking at the 4 x 400m, I think that is where we stand a better chance," Hutson said.
In addition, Hutson said that participation in the 4 x 200m relays will also be a part of the focus for the upcoming championship.
Stabroek Sport was made to understand that a few names are already in mind for selection however Huston noted that standards will be set by the IAAF for the meet which is expected to run over a two-day period.
Although he indicated that Olympian Winston George, South American Under-23 Games bronze medalist, Stephan James and Carifta Games bronze medalist, Jason Yaw, all 400m athletes, are at the top of the list, Huston said no firm plans have been made as yet for the Relay Championship.
"We need to look into some stuff before, but I had preliminary discussions with coaches both locally and overseas about being a part of the championship and they think it is a good idea," he said.
According to the AAG President, plans will be in place for the championship by mid-September, "Later in mid-September… we will plan and select at least eight persons per relay for training," he disclosed.
Hutson highlighted that training will follow after the team is selected and the athletes will be competing at international meets in the Caribbean and hopefully the United States of America, once affordable.
It was also mentioned that athletes are likely to be selected from the recently held mega track and field championship, The Boyce/Jefford Classic, "We will also look at the Boyce/Jefford to shortlist a few athletes as well based on their performance," noted Hutson who is in his first term as President of AAG.
Around the Web