The Athletics Association of Guyana (AAG) and furniture giant Courts yesterday teamed up to launch the third Courts 10k and 3k road race aimed at giving the nation's best long distance athletes an opportunity to show off their talent.
At a press briefing at Olympic House, Kester Abrams, Public Relations and Promotions Marketing Officer at Courts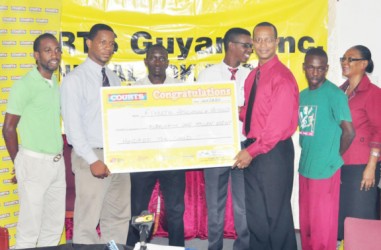 said over $2,000,000 has been pumped into the venture set for September 27. This year marks the third edition of the race after a 10-year hiatus and the public is urged to support it. Abrams said the race will feature many of the nation's top distance athletes, including returning champions Cleveland Forde and Euleen Josiah-Tanner.
"It is going to be massive and lots of fun…we want to encourage the public and inform that the event will start at the Courts Main Street store," he said. According to Abrams, the race is in keeping with Courts' focus on promoting healthy lifestyles and as such registration is free of cost. About 100 athletes are expected to assemble at the starting point for the 6am race.
A cash prize of $100,000 will be given to the best male and female finishers in the senior/open category while other incentives will be given to the top four finishers in the other categories (masters, open and juniors). Abrams is expected to compete in the 3k race.
Meanwhile, AAG President Aubrey Hutson lauded Courts for its continued contribution to the promotion of athletics in Guyana. "We want to look forward down the years for continued support and sponsorship for the 10k race. It has become a calendared event and more and more participation, we are going to be sending invitations to other sporting disciplines," Hutson said. He also posited that "every active sport starts with you being an athlete."
In response, Pernell Cummings, Marketing Manager at Courts gave assurances of the company's continued support. "I must say that Courts will continue to support the 10k run as they say a fit nation is a productive nation and 10k run requires you to be fit and encourages you to get fit," Cummings said.
Banks DIH, under their energy drink brand Powerade and Aqua Mist Water will also be supporting the event. Banks has been associated with the venture for the past two years.
The public is advised that registration forms will be available at Courts, Main Street branch and at Olympic House, Kingston. The race will start on Main Street in front of Courts; proceed North to the seawall road; head East along the seawall onto the Rupert Craig Highway's northern carriageway then West on Lamaha Street into Main Street before finishing at the starting line.
The first place juniors will receive vouchers/hampers along with $60,000; Senior (open) $100,000 while the Masters (women 35and over and men 40-54) will collect $60,000 each. The Masters Men 56 and over will collect $40,000 along with hampers.
Around the Web