A Port Mourant Training Centre's (PMTC) volleyball team led by national player Luen David last weekend placed second against Team Suriname when they participated in the Red Bull Beach Volleyball Cup Competition held at the Hotel Torarica's Beach Volleyball Court in Paramaribo, Suriname.
Played on September 7 and 8, the competition attracted eight female teams and twelve male teams. PMTC was specially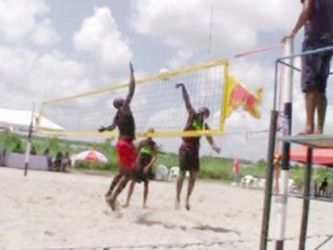 invited to participate.  Two PMTC squads competed; one comprised of Quacy Matheson and Luen David (Team David) and the other with national player Ian Bagot and Adriel Moore (Team Bagot).
The matches commenced at 8.00am (7.00am Guyana time) in very humid conditions. Following the completion of the preliminary rounds on Saturday, Team Bagot was knocked out and it was left to Team David to do battle for Guyana against very seasoned beach volleyball players.
Team David stunned the Surinamese officials and players alike by making it all the way to the finals after eight consecutive hard fought sets against some of the more experienced Surinamese beach volleyball players. Described by the court announcer as "moving from zero to hero," along with their 'never say die' attitude, David earned himself the sobriquet of 'the flying short-man.'
The Guyanese team swept aside three top rated teams while playing on sand that was so hot that two players were allowed to wear socks. The match of the tournament however, was the semi-finals involving Team RBPG of Suriname and Team David of Guyana.
The first set was an up and down affair with the experienced RBPG pulling out all the stops to win 21-18. The second set however, saw the duo of Matheson and David playing some incredible volleyball offence and defence, easily winning 21-15.
The deciding third set was abruptly halted by the rain which came down heavily and both teams gave their best in an all-out effort to secure a place in the final, but the 'flying and diving' of David saw the Guyanese team through with a 15-13 win. At that stage the team was introduced as Team Guyana and no longer as Team David.
The Guyanese then opposed two of Suriname's unbeaten volley-ballers and played their hearts out, but the effort of playing eight successive sets took its toll and they succumbed to their opponents 14-21, 19-21 in two hard fought sets. Beaten but not disgraced, the Guyanese won over the hearts of those present with their spectacular spiking and diving defense.
At the presentation ceremony after the conclusion of the tournament, representatives of the organizers Red Bull and Wanted Events, praised and congratulated the Guyanese for their outstanding performances and urged them to enter more teams next year. Trophies, medals and cheques for SRD1000 and SRD500 were presented to the winners and runners-up respectively, in both categories.
Around the Web