The crème de la crème of Guyana's distance athletes are expected to compete on Sunday morning when the Neal and Massy Group Ainlim 10k road race runs off along the East Bank Highway.
Last year's edition of the race was full of surprises. Defending champion of the Courts 10k Euleen Josiah-Tanner of the Police Progressive Youth Club (PPYC) was defeated by multi-time distance champion Alika Morgan in the women's open category.
One of the most decorated female distance athletes in the sport, Josiah-Tanner suffered muscle cramps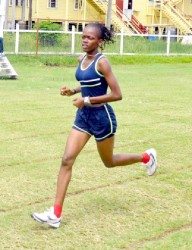 around the Banks DIH Thirst Park area and dropped out of the race giving Morgan, who was fast on her heels, a clear chance at the title.
The US-based athlete was left pondering her future in the sport since that was the first time she had ever experienced cramps in a race during her athletic career.
Morgan, who is the 2013 Caricom Games runner-up, clocked 41:53 seconds to win the event which saw Ashanti Scott of the Guyana Defence Force coming in second with 44:45 seconds and Eva Harry of the PPYC coming in third with 46:17 seconds.
Despite a lingering groin injury, Cleveland Forde won the men's open category in 31:59 seconds ahead of National Schools Champion medallist Dennis Horatio (33:02 seconds) and Cleveland Thomas (33:32 seconds). Forde, along with Horatio, Thomas, Nathaniel Giddings (last year's junior boy's champion), Tyshon Bentinck, Winston Missenger, Jayon Johnson, Kevin Bayley and Devon Barrington are also expected to compete on Sunday. In the women's category, Morgan along with Jevina Straker, Carlissa Atkinson, Jonella Jonas, Shion Boyer and Tracy Moses are expected to compete.
Athletics Association of Guyana (AAG) President Aubrey Hutson told Stabroek Sport yesterday that he expects good performances from the athletes.
"I expect keen competition from the athletes who are really competing. It is the same route and with that fact there should be an improvement on times with Cleveland Forde, Dennis Horatio, Cleveland Thomas and Nathaniel Giddings," he said. Huston expects the other athletes to put up a strong challenge against defending champion Forde.
Huston who is also the President of Running Brave Athletics Club disclosed that club athletes, Cleveland Thomas along with Devon Barrington have been committed to their training for the 10k race. "They are expected to give good accounts for themselves," noted the President.
Regarding Jevina Straker, Huston said once she can repeat her performances at the recent Boyce/Jefford Classic then she will put up a strong challenge against Morgan.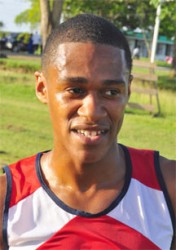 In a press release, it was stated that the Neal and Massy Group of Companies Sunday's event is part of their observances for their 45th anniversary. The 3km walk is also on the day's agenda for fitness enthusiasts. The walk starts from the Demerara Harbour Bridge junction and will proceed to the finishing line in front of the Ruimveldt office.
Deo Persaud, Group Chief Executive Officer, said the athletic race and walk have been organized in an effort to promote health and wellness in Guyana. He encouraged athletes and other participants to participate in the activities.
Employees of the Group of Companies which comprises Ainlim, CCS, Demerara Oxygen Company (DOCOL), Geddes Grant, Marketing and Distribution (M&D), NM Services Limited and NM Security Solutions will also compete for top honours as part of their internal rivalry.
The event gets underway at 06:00 hours in front of GBTI at Diamond, East Bank Demerara proceeds along the East Bank Public Road to Providence before finishing in front of Ainlim Head Office.
Transportation will be available to take athletes to the starting point at 5.30am.
Around the Web