Guyana's Priyanna Ramdhani has reached two finals of the Caribbean Regional Badminton Confederation junior championships in San Juan, Puerto Rico, the girls U13 singles and the girls' U13 mixed doubles.
The 11-year-old Ramdhani advanced to the final of the U13 girls singles after defeating number one seed Mileiki Acosta Munoz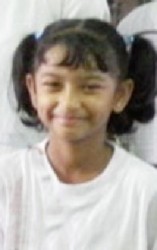 of the Dominican Republic 21-12, 21-13. This is Ramdhani's first year in the U-13 category.
She then teamed up with Trinidad's Leon Cassie and the pair will contest today's U13 mixed doubles final after outclassing Michael Constantine and Shezelle Mctyson yesterday.
Ramdhani/Cassie defeated Constantine (Trinidad) and Mctyson (Jamaica) 21-16 and 21-17.
In other results, Narayan Ramdhani defeated David Caraballo Ortiz of Puerto Rico 21-3, 21-2 to advance to the quarter-finals of the U17 boys singles but later suffered a defeat to Jamaica's Shaquille Palmer 21-11, 14-21, 16-21 in a three setter.
The combination of Guyana's Narayan Ramdhani and Jonathan Mangra mauled Juan Lugo Cruz and Julio Soto Santiago (Puerto Rico) 21-6, 21-6 in the U-17 boys doubles and reached the quarter finals where they defeated Jaleel Arthur and Daniel Duncan of Barbados before losing to Shane and Sean Wilson of Jamaica 21-11, 21-11 in the semi-finals.
On the girls' side Nadine Jairam and Meshonn Persaud also lost to Arisleyda Orbe and Christina Hastings 21-8, 21-5 while
Noel Shewjattan and Narayan Ramdhani lost to Aleandra Solas and Pedro Zapata Santana of Puerto Rico, in the boys' doubles 21-7, 21-5
In the singles, the Dominican Republic's Luis Rodrguez was too strong for Nicholas Ali defeating him 21-14, 21-15 while Guyana's Abosadie Cadogan lost to Daniela Hilario in the U11 girls' singles round robin 21-11, 21-8.
Jonathan Mangra defeated Joshua De Leon Rosario (Puerto Rico) 21-10, 21-13 in the U15 boys singles to advance to the quarter-finals where he lost to Isaac Roberts of Jamaica 12-21, 24-22, 21-10.
The U15 girls doubles, Priyanna Ramdhani and Amanda Haywood defeated Yuneishka Rosa and Titiana Roldan of Puerto Rico 21-7, 21-3, but lost to Taina Daley and Shezelle Mclyson of Jamaica 16-21, 21-18, 21-19. They rebounded by defeating Amanda Ramsingh and Ralitsa Wong of Trinidad 21-10, 21-8.
The tournament continues today with the U19 and Open events.
Around the Web