The annual Courts-sponsored golf tournament, which will feature the best local players, will get underway Saturday at the Luisignan Golf Club course. Yesterday at the company's Main Street Office, some $250,000 was handed over to the LGC by Kester Abrams, Courts Marketing Officer of Public Relations and Promotions. Also present were 2011 female winner Joann Deo, David Mohammed (Vice President of Lusignan Club) and Shondell Bacchus, Customer Experience Manager.
Courts is celebrating their 20th anniversary and as a way of giving back to the community has decided to sponsor the eagerly anticipated tournament where the golfers will compete for trophies and Courts kits.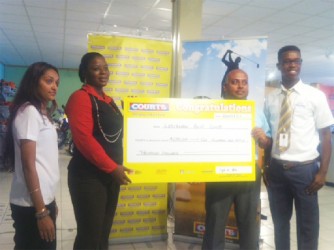 Abrams said that his company was excited to sponsor the competition. He indicated that the inclement weather has hampered the running off of the tournament but guaranteed that Courts will continue to sponsor the annual event.Vice President of the Club, Mohammed, in response thanked Courts for supporting the sport which is developing in Guyana.
Top female player Deo also expressed gratitude to the Furniture Giants and told Stabroek Sport that she is preparing for the tournament which commences in a matter of days.
Around the Web