Bankers Trust Falcons defeated provincial rivals Amelia's Ward Jets 63-55 as upsets marked the opening fixtures of the second edition of the Trophy Stall Regulation Basketball championships on Saturday at the Mackenzie Sports Club (MSC) hard court.
Absent from competitive basketball for a period of over 10 years, the Falcons returned with a bang as they recorded a staggering win over the number two ranked team. Lawrence DaCosta had a game high 14 points while Dale Sauers and Thornton Wilson scored 10 and nine points correspondingly in the win.
Javon Nelson was the top scorer for the losers with 12 points whilst Shane Webster and captain Kevin Joseph had 10 and nine points respectively.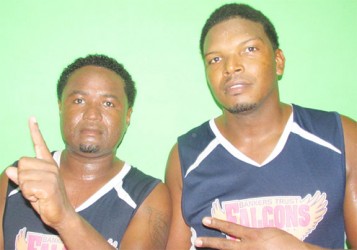 The opening half saw the Falcons catching the grounded Jets off guard as they led the first and second periods 14-9 and 24-20 respectively. The pivotal third period would belong to the Jets as they recorded 23 points to take the lead at 43-41.
However, the Falcons would register their highest scoring quarter, netting 22 points while limiting the Jets offence to 12 points to complete the victory.
In the second fixture of the evening, Retrieve Raiders edged Half Mile Bulls by a 65-64 score line. Neil Marks and centre Omar Sam led the Raiders with 21 and 11 points correspondingly.
Michael Turner was the best scorer for the Bulls with 17 points while Keon Cameron and Terron Welch picked up nine and eight points respectively.
Looking set for a win after leading the first three quarters 21-17, 33-32 and 59-49 respectively, the Bulls would struggle in the fourth period as they registered a paltry five points on offence while conceding 16 points on the defensive end to surrender the fixture.
On Sunday at same venue, Block 22 Flames burned top ranked Kashif and Shanghai Kings 55-38 in the lone fixture.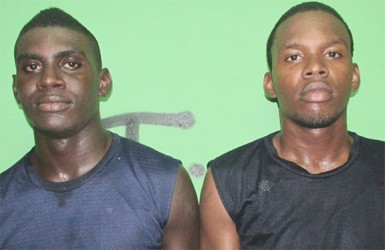 Selwyn Noble and Kerwin Williams led the victors with 13 and 10 points respectively. Leading the Kings was Orin Rise who had a game-high 14 points while Omally Sampson scored six points.
The opening period would belong to Kings as they took a 13-4 lead. However, the Flames battled back as they narrowed the lead to four points upon the end of the second stanza at 25-21.
The Flames would outscore the Kings in the third period 12-8 to pull level on 33-33 going into the fourth period. The seventh ranked side would continue their scoring dominance, netting 22 points in the period while restricting Kings to five points to complete the huge win.
Around the Web