The fistic sport of amateur boxing received a shot in the arm yesterday when regional conglomerate, Ansa McAL agreed to partner with the Guyana Boxing Association (GBA) to host a series of cards dubbed 'Mackeson Fight Night'.
During the launch of the inaugural event at Ansa McAL's head office yesterday, it was disclosed that the first 'Mackeson Fight Night' card will box off at 20:00hrs tonight in Linden at Amelia Ward's Bus Park.
The competition which is open to anyone will continue in Georgetown at the National Cultural Centre tarmac next Sunday and will culminate in Berbice at the New Amsterdam Stelling on October 5.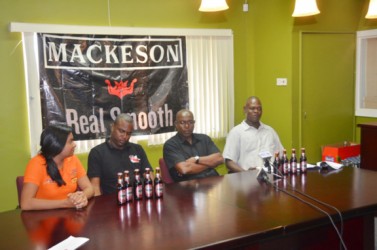 Pugilists will be competing in the lightweight (60kg), light welterweight (64kg), welterweight (69kg) and the middleweight (75kg) divisions with the top three boxers in each weight class being rewarded with vouchers.
"In the past we had fans going to boxing but this is the other way around, we are taking boxing to the people" said president of the GBA, Steve Ninvalle at yesterday's launch.
"We in the GBA would like to say a heartfelt thanks to Mackeson and Ansa McAL for coming onboard with us, these competitions will be used to feature what we have at the amateur level and also it will be used to showcase untapped talent towards the sport".
Ninvalle added "AIBA at this moment frowns on monetary prizes being rewarded to amateur boxers and the sponsors have taken note of that but they will be handsomely rewarded".
Said Ansa McAL's Jamal Douglas "Mackeson is proud to be a part of this competition with the Guyana Boxing Association, we at Ansa McAL are dedicated to giving back to the communities and we will bring off this event yearly"
Douglas continued "We are very excited to have street boxing, we will have the communities come out and witness boxing for free in Linden, Georgetown and Berbice".
Technical Director of GBA, Terrence Poole, stated that: "It is a great initiative for amateur boxing in Guyana, like the president said we are bringing boxing to the people".
Poole further mentioned that the three competitions will be governed under the rules of International Boxing Association (AIBA) with four boxers competing in each category in a round robin format.
"The boxers will face each other and the fighter with the highest wins along with the fighter with the second amount of wins will compete in the final in Berbice the person with the highest wins after that will come in third.
All the bouts will be three rounds with three minutes per round and will be open to anyone medically cleared to compete" Poole noted.
Around the Web