World Master's Two 74kg power lifting champion and dead lift record holder Winston 'Little Master' Stoby departed for Orlando, Florida yesterday on a quest to successfully defend his title at this year's World Masters Championships.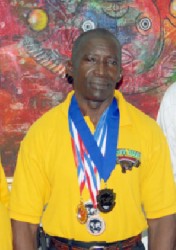 According to a press release from the Guyana Amateur Power Lifting Federation (GAPF), Stoby will compete today at 17:00hrs at the championships being staged at the Hyatt Hotel.
The 'Little Master' is expected to better his personal record with a 277kg attempt in the dead lift which was achieved at the local Masters Championships in June earlier this year.
However, the youngest lifter, Greg Page of the USA, who will start as favorite, stands in his way for overall honours.
Due to inadequate funds, the federation was unable to have a manager/ coach to accompany Stoby.
Despite the setback, Australia's team has agreed to assist him as a fellow Commonwealth lifter and will be in his corner when he lifts.
Line Up
Name                                     Year of Birth            Nation                              Total listed
1. Greg Page                              1963                     USA                                    705kgs
2. Winston Stoby                    1959                    GUYANA                          637.5kgs
3. Roland Asmus                    1960                    GERMANY                       592.5kgs
4. Koichi Taniguchi                1960                    JAPAN                              585.0kgs
5. Allan Ottolangui                 1960                    GREAT BRITAIN           580.0kgs
6. Tomas Berg                           1960                    SWEDEN                           557.0kgs
7. Pascal Piffard                       1962                    FRANCE                            547.5kgs
8. Jan Sahlgren                       1960                   DENMARK                          540.0kgs
9. Akinori Yasukura                1958                    JAPAN                              530.0kgs
Lifts will be shown live on ustream or goodlift.com
Around the Web