National coach, Hassan Mohamed resumes his cycling calendar today at the National Park with the staging of the ninth annual Laparkan Holdings Limited 11-race programme.
The event is scheduled to pedal off at 9.00am and is expected to attract the cream of the nation's riders.
Today's main race will see the top juniors and seniors like defending champion, Robin Persaud, the in-form Alanzo Greaves, national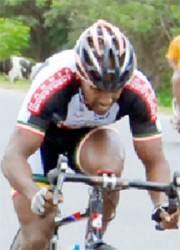 road race champion, Raynauth Jeffrey, Hamzah Eastman, Albert Philander and others going wheel-to-wheel in the Invitational 35-lap event.
Other categories scheduled to be contested are the 12 to 14 years boys and girls (3 laps), veterans under-50 years (5 laps), veterans over-50 years (5 laps), veterans over-60 years (5 laps), juveniles (10 laps), upright cyclists (5 laps), BMX boys open (3 laps), BMX boys 12 to 14 years (3 laps), BMX boys 9 to 12 years (3 laps) and BMX boys 6 to 9 years (3 laps).
Persaud took the top honours last year in one hour, 20 minutes and 55 seconds.
Other category winners for 2012 were: Raul Leal (Juveniles), Junior Niles (Veteran), Jude Bentley (Mountain Bike) and Alfie Soonaram (12-14 Boys and Girls).
Representatives of Laparkan Holdings Limited will be on hand to distribute the prizes to the top participants.
Around the Web