The Russian martial arts and combat sport known as Sambo will be introduced to Guyana's martial arts practitioners this afternoon at the National Gymnasium with the Guyana Sambo and Combat Sambo Federation (GSCSF) set to showcase the thriving martial arts form at the inaugural ceremony.
A training seminar is set to take place immediately after the official launch and the event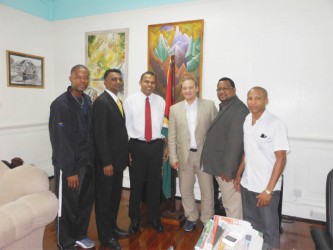 will conclude tomorrow. According to a press release from the organizers, the two-day launch and seminar is expected to attract hundreds of participants from across Guyana.
The two day event will see instructors from Russia, Panama, Suriname and Trinidad & Tobago participating.
Dr. Andrew Moshanov, Head of Development of the International Sambo Federation (FIAS) and Panamanian Grandmaster Dr. Chu are among those expected to participate in the launch and training seminar.
According to the release, experts and avid supporters of combat sports have long demonstrated enthusiasm for the advancement of combat sport in Guyana and the opportunity to promote Guyanese talent overseas in this area. The Guyana Sambo and Combat Sambo Federation, the release stated"is committed to the realization of this ambition."
President of the GSCSF Carwyn Holland said that Guyanese have had a tradition of excellence in combat sports but are often stymied in their efforts to showcase their potential overseas.
Holland, who became Guyana's first certified instructor earlier this year, was particularly enthusiastic about the introduction of the sport of Sambo to Guyana, stressing the wealth of opportunities available for the exposure of Guyanese talent through the International Sambo Federation (FIAS): the international organization under which the local federation functions.
Though not yet an Olympic sport, Sambo is included in the official programme of the World Martial Arts games, the Pan-American Games and the World Summer Universiade 2013 games.
"For almost 30 years FIAS has been the official international governing body for Sambo fighting, fostering and integrating Sambo federations worldwide. To date, over eighty countries have embraced Sambo, with FIAS at the helm offering resources and training opportunities, as well as a regular competitions calendar," stated the release.
"Sambo is a Russian originated martial art and combat sport which teaches self-defense without weapons. It is ideal for improving hand-to-hand defense abilities for both experienced combat sportsmen and novices and its 'Safe Fall' program has been embraced by UNICEF. Experienced combat sports men and novices alike can benefit from Sambo training," the release added.
Holland, an ardent sports fan and advocate for sports tourism is eager to introduce Sambo to Guyana, citing the opportunities to compete at the international level.
Interested persons can contact the office of the Guyana Sambo and Combat Sambo Federation (GSCSF) at Lot 10 Camp & Bent Streets, Werk-en-Rust, Georgetown, via email at guyanasambo@gmail.com or telephone 226-4484.
Around the Web