The four amateur pugilists that won medals at the inaugural South American Youth Games in Peru late last month were yesterday commended by the Guyana Boxing Association (GBA) for their podium worthy performances.
During a media briefing at the Ministry of Sport, GBA's head, Steve Ninvalle as well as his brass heaped praises to silver medalist Travis Fraser and bronze medalists, Michael April, Tefon Green and
Joel Williamson while appealing for more support in the discipline that garnered Guyana's only Olympic medal. Fraser earned his silver medal in the welterweight division while Green, April and Williamson completed the podium in the junior flyweight, flyweight and bantamweight categories respectively.
Out of Guyana's nine medal producing performances at the Youth Games which was staged from September 20 to 29 in Lima, four were won by the boxers.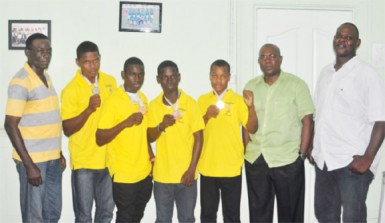 "These boxers have proven what they can do," Ninvalle declared.  "Each boxer that we sent to the Games returned with a medal so that in itself says something."
"It is important that if we continue sending boxers to championships such as these not these young boxers alone but all so we need to get everyone on board if we are to make any impression at the next Olympics in Brazil.
"If it takes a village to raise a child then it takes a nation to build a champion," added Ninvalle.
The GBA boss reiterated that private and public stakeholders "have to be on board if we are to realize our dream of medaling at the next Olympics."
Ninvalle also pleaded for sponsorship for GBA's Technical Director, Terrence Poole as well as other amateur boxers to join Dennis Thomas and Imran Khan in Kazakhstan at the World Amateur B
oxing Championships. Coach of the pugilists on the sojourn, Wincel Thomas who also congratulated the four Simon Pures stated that despite major deficiencies, his charges were able to secure medals, a testament to their talent level. With the encouraging medal haul, the GBA is  also mulling the possibility encamping some of its boxers every weekend at the Andrew 'Sixhead' Lewis Gym.
Around the Web