Daniel Lopes edged Gavin Lewis in a third set tie-break in the final of the boys U18 fixture when the Courts Junior Tennis Championships concluded on Saturday at the National Racket Centre, Woolford Avenue.
Lewis took the opening set 6-4 margin while Lopes levelled proceedings by  with a 6-3 second set win.
Needing 10 points to win the title in the tie breaker, Lopes sealed the comeback victory defeating Lewis 10-4.
Tournament coordinator and national coach Shelly Ramdyhan at the closing ceremony stressed on all the players that fitness was the key to playing in these conditions.
She noted that fitness was now top priority in junior development as the fitness regimen was being revised. She also said that the turn out for this tournament was larger which reflects an increase in interest in the sport.
"Some 61 participants played in the tournament with a total of 116 matches over the past three weekends in five categories and this spells well for junior tennis in Guyana. It is great to see that the parents of the little ones are taking the sport of lawn tennis seriously," added Ramdyhan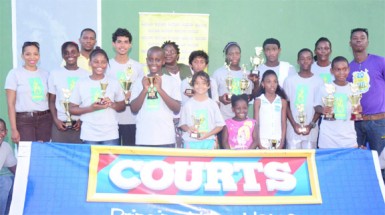 First vice-president of the GTA, Grace McCalman said that the sport of tennis in Guyana was not where it should be but said that sponsorship and parental support were key components for its growth.
"Courts has always been a partner in local tennis through the support for coaches development and now we have two primary junior coaches Shelly Daly-Ramdyhan and Leyland Leacock. But now Courts has become the second annual sponsor on the junior tournament calendar which is very significant for the GTA's ambitions." Courts Marketing Executive, Molly Hassan, expressed strong sentiments about her company's support for tennis and said that she was impressed at the way the matches in the tournament were organized efficiently.
She recounted learning to play tennis at the same facility many years ago and said that she was elated at the large number of youths who are now involved in the sport.
She praised the GTA for its professionalism and commitment to reviving a dying sport and pledged annual support for the tournament. She charged the young ones to aim high and to make her company proud by aiming for recognition regionally and possibly internationally.
This tournaments serves as  a criteria for selection for players to represent Guyana at the Inter Guiana Games later this month in Suriname.
Around the Web