By Clifton Ross
Commanding half-centuries from Mossadek Hossain Saikat and Jashim Uddin led the touring Bangladesh U19 team to a 111-run drubbing of the Guyana U19 team yesterday at the Georgetown Cricket Club ground, Bourda.
The match organized ahead of the upcoming seven One Day Internationals between the tourist and the West Indies, saw Bangladesh, batting first, posting a formidable 242 for 5 from 50 overs.
Saikat clobbered 74 and wicket-keeper Uddin stroked 65 not out while spinner Zubair Hossain Likhon grabbed 3 for 19 when the Guyana team batted.
Earlier, Guyana removed opener Joyraj Emon with the score on one when he was caught by Steven Sankar off the bowling of Romario Shepherd for nought.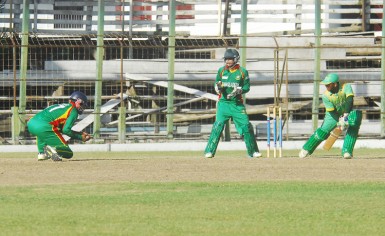 However, Sadman I Anik and Nazmul Shanto added 78 runs for the second wicket before spinner Shailendra Shameer removed Shanto who edged a catch to wicketkeeper Kemol Savoury soon after the water break for 43.
Skipper Mehedi Hasan Miraj (8) was next to go expertly caught by Martin Pestano Bell who had to cover some ground to complete the catch off left-arm spinner Herry Green.
That dismissal was followed by the dismissal of another in-set batter, Anik (33) who dragged one onto his stumps off the bowling of Shameer as the tourists slipped to 97 for 4.
The pair of Saikat and Uddin broke the shackles by hitting out and
Saikat duly brought up his half-century in the 43rd over after pushing Shepherd for a single through point. The pair brought up their century partnership off 119 balls, followed by the team's 200-run mark in the 44th over.
Uddin soon reached his half century raising his bat to signal reaching the landmark but after a few more lusty blows Ricardo Mohamed removed Saikat, who hit one down the throat of Steven Sankar. His innings featured four fours and five sixes.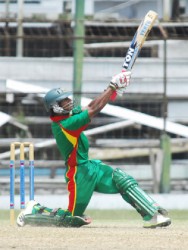 Uddin and Yasir Rabbi (7) not out, batted out the remaining overs.
Shameer 2 for 36, Mohamed 1 for 21, Green 1 for 26 and Shepherd 1 for 54, were the wicket takers.
In reply Guyana slumped to 131 all out in 44.3 overs. Openers Ryan Shun (27) and Bell (14) looked solid in their opening stand of 25.
Bell was the first to go, run out by Likhon after attempting to scurry for a run. His dismissal was followed by that of Ricardo Peters (1) and Kamesh Yadram (0), who were both dismissed by Yasir Ali Chowdhury Rabbi.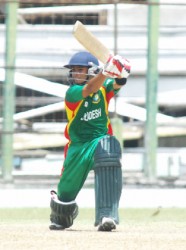 After looking set, Shun the hit a delivery straight to the opposition skipper giving Nahid Hasan his first wicket. Reeling at 44 for the loss of 4 wickets Savory came out to the middle but was caught for 11 in his brief stay. Shepherd (4)  was given a life on 2, when he was dropped by the wicketkeeper off the first ball of Uzzaman Nehad's over, but was then bowled the following over by Likhon.
Skipper Shawn Pereira (8) was bowled by Likhon, bringing an end to a 21-run partnership with Sharaz Ramcharran.
Guyana's century mark came up in the 40th over as the Guyanese required 100 plus runs from the last 10 overs.
After a gritty knock, Ramcharran (33) was unfortunately ran out as the local boys slipped into further trouble. Shameer (17) after a brief cameo and Shivram Persaud (4) were the last wickets to fall, as the tourists wrapped up a convincing win.
Likhon grabbed 3 for 19, Nehad 1 for 22, Miraj 1 for 12, Nahid 1 for 12 and Rabbi 2 for 19.
SCOREBOARD
Bangladesh Innings
Sadman Islam Anik b Shameer                                         33
Joyraj Emon c Sankar b Shepherd                                      0
Nazmul Hasan Shanto c wk Savory b Shameer                 43
Mehedi Husan Miraj c Ramcharran b Greene                     8
Mossadek Hossain Saikat c Sankar b Mohammed             75
Uddin Jashim not out                                                              65
Yasir Ali Chowdhury Rabbi not out                                   7
Extras (2nb, 6w, 3 lb)                                                          11
Total (for 5 wickets off 50 overs)                                  242
Fall of wickets: 1-1, 2-79, 3-90, 4-95, 5-217
Bowling: Shepherd 8-0-54-1 (2nb, 2 w), Paul 4-0-17-0 (3w), Ramcharran 10-2-33-0, Mohammed 4-0-21-1 (1w), Shameer 10-2-36-2, Greene 6-0-26-1, Pereira 6-0-39-0, Sankar 2-0-13-0
Guyana Innings
M. Pestano-Belle run out (Likhon)                14
R. Shun c Miraj b Nahid                                    27
R. Peters lbw b Rabbi                                           1
K. Yadram c Shanto b Rabbi                              0
S. Ramcharran run out                                     33
K. Savory c Shanto b Miraj                               11
R. Shepherd b Likhon                                         4
S. Pereira b Likhon                                              8
S. Shameer c Rabbi b Nehad                            17
K. Paul not out                                                      8
S. Persaud c wk Jashim b Likhon                      4
Extras (1w, 1nb, 2b)                                              4
Total (all out off 44.3 overs)                            131
Fall of wickets: 1-25, 2-30, 3-30, 4-44, 5-63, 6-72, 7-93, 8-105, 9-122, 10-131
Bowling: Abu Haider Rony 6-2-13-0, Rabbi 6-0-19-2 (1nb), Nahid 4-0-12-1, Rahattul 6-0-23-0 (1w), Miraj 3-0-12-1, Likhon 8.3-3-19-3, Nehad 7-2-22-1, Saikat 4-1-9-0
Around the Web