Albouystown/Charlestown retained their title defeating Wortmanville/Werk-en-Rust 87-82 when the Mackeson Trinity Grid Holdings (TGH) Pacesetters Basketball Club Inter-Ward Championships concluded on Saturday at the Cliff Anderson Sports Hall.
Niko Fraser led the 2-0 sweep with figures of 21 points, six rebounds, two blocks and three steals.
Quality support was provided by Sheldon Thomas who collected 20 points, seven rebounds, two assists and two steals while Marvin Hilliman and Sheldon Frank contributed vital figures of 19 points, eight rebounds and 10 points respectively.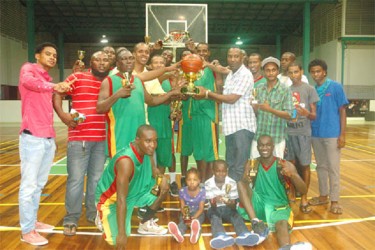 Leading for the losers were Randy Richardson and Germin Hamilton with 25 points, 10 rebounds and 25 points, eight rebounds respectively.
They were assisted by Sean Gillis and Joslyn Crawford who collected figures of 12 points, three rebounds and 11 points, seven rebounds and four blocks correspondingly. A combined 14 points from Richardson and Ellis saw Wortmanville/Werk-en-Rust take the opening period 21-14.
Holding game one hero Thomas to a meagre two points in the stanza, Wortmanville/Werk-en-Rust dominated the paint as Richardson netted eight points while Ellis displayed his long range shooting touch, nailing two big threes to cap off the quarter.
Hamilton would continue the interior assault, netting 8 points as Wortmanville/Werk-en-Rust went into the half leading 41-35. In partnership with Richardson who netted six points, Hamilton continued to attack the rim at every opportunity scoring bruising layups.
Building on his opening six points, Fraser registered a vital seven points littered with midrange jumpers while Thomas continued to struggled as he netted four points.
Similar to game one, the third period would prove to be the game changer as the defending champs outscored Wortmanville/Werk-en-Rust 29-18 to take the period 64-59.
Displaying a potent inside and midrange game, Hilliman led the charge as netted a quarter high 12 points which was highlighted by a beautiful spin and finish to the rim.
Struggling throughout the first half, Thomas began to find his shooting range as he netted six points in the period from his trademark pull mid-range jumpers.
The fourth stanza would prove to be the closely contested affair as both sides netted 23 points apiece. Wortmanville/Werk-en-Rust led by a quarter high 10 points from Hamilton desperately tried to narrow the five point gap as the seconds ticked away.
Continuing in his scoring form from the previous period, Thomas netted nine points in the period including a clutch three pointer with 7:02 on the clock as the champs tried to put some daylight between the two sides.
Fraser who was clearly a constant threat from the mid-range, chipped in a further six points including back to back mid-range jumpers as the champions extended their lead to 80-70.
Quiet throughout the matchup, Wortmanville/Werk-en-Rust would battle back through Crawford as he netted seven points including a critical three point play that pulled Wortmanville/Werk-en-Rust within four points at 84-80 with 51.9 seconds left in the game.
However a steal in the dying moments would ensure the champs hold on to retain their title as the Thomas ran the clock out.
In the third place fixture, Plaisance/Vryheid's Lust blew out Alberttown/Bourda 85-50. Ryan Gullen led the victors with figures of 22 points, 19 rebounds, two assists and three steals.
He was assisted by Ron Campbell who collected 17 points, 12 rebounds, five steals and Hugh Arthur who picked up 13 points and five rebounds. Olatunde Griffith was the principal scorer for the losers with figures of 11 points, four rebounds, two blocks and two steals.
Upon the conclusion of the tourney, the presentation of the respective awards was done. For their exploits, Albouystown/Charlestown earned the winners trophy, replicas and $250,000.
Wortmanville/Werk-en-Rust earned the second place trophy, replicas and $125,000 while Plaisance/Vryheid's Lust and Alberttown/Bourda received the corresponding finisher's trophy and $75,000 and $50,000 respectively.
On the individual side, Albouystown/Charlestown's Niko Fraser was adjudged to be the Giftland Office Max's finals Most Valuable Player (MVP) while Plaisance/Vryheid's Lust's Ryan Gullen pocketed the most rebound award with 71.
Albouystown/Charlestown's Sheldon Thomas collected the most three pointer award with 12 whereas Naylon Loncke of Wortmanville/Werk-en-Rust collected the award for most assists with 8.
Loncke also pocketed the most free throw accolade with 21 whilst Tucville/Guyhoc's Jason Squires and Wortmanville/Werk-en-Rust's Joslyn Crawford received the most steals and most block awards with 11 and 15 respectively.
Around the Web