SYDNEY,  (Reuters) – Three foreign coaches have paid the price for Australian humiliation on the international sporting stage this year and the search for a new soccer coach is taking place against a backdrop of hostility to "mercenaries" from overseas.
In a miserable 2013 tempered only by golfer Adam Scott's triumph at the U.S. Masters, a proud sporting nation has endured the continuing travails of their once all-conquering cricket team and the defeat of the Wallabies rugby team at the hands of the British and Irish Lions.
The latest humiliation came when the Socceroos, fresh from qualifying unconvincingly for next year's World Cup finals, were handed back-to-back 6-0 thrashings in friendlies against former world champions Brazil and France.
The blame for the latter defeat in Paris last weekend was apportioned less than two hours after the final whistle with German coach Holger Osieck, summarily dismissed by Football Federation Australia (FFA) chief executive David Gallop.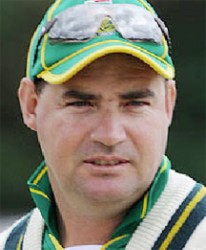 Rugby coach Robbie "Dingo" Deans was given a full three days after a third test hammering in July that decided the Lions series before the New Zealander "stood down" to end five-and-a-half years in charge of the Wallabies.
The main event of the cricket year had not even been reached when South African Mickey Arthur was the victim of a shock pre-emptive strike, his short reign curtailed after a 4-0 defeat in India but before the Ashes series against England.
Both were the first foreigners to be put in charge of the respective teams and both were succeeded by Australians.
With public sentiment, as represented by the media, resolutely behind giving a local man a chance to coach the Socceroos, FFA chairman Frank Lowy yesterday all but called off the global search for Osieck's replacement.
"When we appointed Holger (Osieck) coach three years ago, I recall I said words to the effect `I hope the next coach will be an Australian'," Lowy, the billionaire owner of the Westfield Shopping empire, told reporters.
"That was the plan and is still the plan.
"Three names are being talked about and it's not wrong that we have three possible Australian candidates."
The three candidates are Melbourne Victory coach Ange Postecoglou, Central Coast Mariners manager Graham Arnold and Western Sydney Wanderers mentor Tony Popovic.
All have enjoyed success in Australia's top flight A-League, but have limited international coaching experience barring Arnold, who managed the Socceroos in a caretaker role from 2006-07.
Their nominations are likely to please Sydney Morning Herald columnist Andrew Webster, who wrote that Osieck's demise highlighted the "folly" of using foreign coaches to lead Australian national teams over long periods.
"Osieck and his predecessor, Pim Verbeek, are technocrats who never embraced the unique Australian manner in which we play on the international stage: punching above our weight, against nations with far larger player numbers to choose from.
"Foreign coaches don't bleed like home-grown ones. They are merely fulfilling a contract."
NO QUICK FIX
The examples of the Australian cricket and rugby union teams suggests, though, that taking the coaching job back "in-country" is no quick fix for a struggling team.
Arthur's replacement, Darren Lehmann, oversaw a 3-0 defeat in England and his team face an uphill struggle in the return series, which starts in Brisbane on Nov. 21.
Ewen McKenzie was handed the Wallabies job ahead of World Cup-winning South African Jake White but has lost two tests each to New Zealand and the Springboks, only tasting victory in his first six matches against Argentina.
Postecoglou initially urged caution over the groundswell of support for an "Australian only" approach to recruitment but yesterday, after two days in which he firmed as media favourite for the post, conceded that an Australian would have more invested in the job.
"An Australian has to live in this country once he's finished that job," he told SEN radio.
"I think there's some sense in saying that if there's an Australian who's ready for it, then that would be the way to go."
Whoever takes the job, though, will inherit a very different squad from that Dutchman Guus Hiddink took over in 2005, a generation of players who blossomed into Australia's finest.
Given the current team just managed to squeak past the likes of Oman, Iraq and Jordan to get to Brazil, there is a case for suggesting that, whether led by Australian or foreigner, expectations for the Socceroos might be a little bit too high.
Around the Web