KINGSTON, Jamaica, CMC- A new executive director is to be appointed to the embattled Jamaica Anti-Doping Commission, (JADCO) nearly nine months since the last permanent holder of the position was fired.
Minister with responsibility for sports, Natalie Neita-Headley, has confirmed that the position, which was occupied between May and mid-August 2013 by four-time Olympian Cathy Rattray Samuel, has been filled.
JADCO has come under increased scrutiny in recent months following a rash of positive doping tests by Jamaican athletes
"I have been advised by the board of commissioners that they have reached the point of selection. They seem to have done all the due diligence and are comfortable with the gentleman who they have selected," the minister said, without revealing a name.
"It's someone who has strong administrative and managerial skills, and that's really what we need now to be able to pull JADCO together and push it forward".
A series of damaging articles published locally and internationally by the former executive director, Renée Anne Shirley, has exposed weaknesses within the commission's testing programme.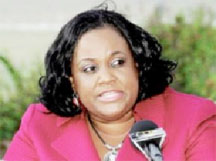 Reports this week suggest that the World Anti-Doping Agency (WADA) is to conduct an "extraordinary" audit of Jamaica's testing of its athletes between February and July 2012 when the commission failed to conduct out-of-competition tests leading up to the London Olympics.
"The new ED will have to ensure that all of our plans are executed on time and within the rules and regulations and to ensure that we are compliant, and where we fall short that we make up quickly," Neita-Headley said.
"The new ED will put in place a stronger programme of education, which is really my focus and the focus of the board of commissioners".
There has been increased international scrutiny of Jamaica's drug testing programme triggered by eight positive doping tests since the start of the year.
These include Olympians Veronica Campbell Brown, Asafa Powell, Sherone Simpson, Traves Smikle, Allison Randall, and martial artist Kenneth Edwards.
"We will be working closely with the Ministry of Education to ensure that we put in place as part of the physical education curriculum in schools, this notion of anti-doping and good nutrition,"  the minister said.
"Those will be his primary focus, but also to pull the organisation together and to ensure that it runs fluently."
Around the Web