Former West Indies Under-19 skipper Leon Johnson said that he badly wanted to score a century on the just concluded tour of India in an effort to boost his chances of a West Indies senior team call up in December to play against New Zealand.
"Ideally I wanted to score a century in the four-day games in order to boost my chances of playing Test cricket," the Guyanese left-handed middle-order batsman told Stabroek Sport yesterday in an exclusive.
Johnson came close to his goal on two occasions but narrowly missed out on reaching the coveted landmark.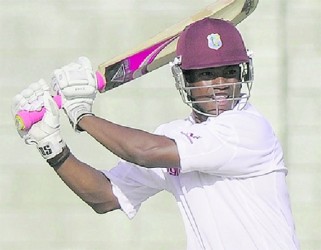 In the second Unofficial test between the West Indies and India A teams which ended in a draw at the Jawaharlal Nehru National College of Engineering ground, Shimoga he scored 91 – the top score – out of a total of 406 all out.
In what was a batting master class Johnson batted all told for 185 minutes, faced 131 balls and struck 16 fours before be was caught and bowled by left arm orthodox spinner Bhargav Bhatt.
According to Johnson he played a "lethargic shot which presented a simple catch back to the bowler."
He was again to miss out on scoring that coveted century in the third and final unofficial test at the Hubli Cricket Ground, Johnson was lbw to medium pacer Abishek Nayar for 81 after batting for 214 minutes, facing 148 balls and striking 15 fours.
He was quick to admit that, on that occasion, his demise was as a result of a "good piece of swing bowling."
Now, after some solid performances against Sri Lanka 'A' and India `A', his sights are set on a possible selection for the upcoming series against New Zealand scheduled to bowl off in December.
The stylish left-hander scored his maiden first class century, a mature 144 against Sri Lanka in the Asian side's tour of the Caribbean a few months ago  and followed up that century with a fruitful away series against India A.
Johnson scored 93 runs from the two unofficial One Day International matches at an average of 46.5 with one half-century that of 54.
His four-day stats are more impressive; 183 runs at an average of 45.75 from three games and four innings with two half-centuries.
"The most difficult part of the tour came after my first and only innings in the four-day fixture where I got a low score on a good batting surface, after batting well in the ODI series," he said.
He did point out that the high point of the tour was …"contributing to the ODI series win and scoring 91 and 81 in consecutive innings in the test series."
Johnson also spoke of having a golden opportunity to interact and have chats with some of India's and cricket best players namely Virender Sehwag, Gautam Gambhir, Cheteshwar Pujara and Zaheer Khan.
"It gives you an insight of what the next level of cricket is about," said the 26-yeare-old Johnson.
With 11 first-class matches, 18 innings, 769 runs at an average of 42.72,  five half-centuries and a century, to go along with 10 list A games, 10 innings 306 runs averaging 30.6 with two half-centuries under his belt for 2013, Johnson admitted that his aim heading to India was to continue scoring runs.
Though this year has been in some measure a coming of age for the young batsman, Johnson said that his plans for the remainder of the year is to continue playing local cricket and to train for the Regional Tournament which begins in January.
Unless of course he does get that call up in December.
Around the Web