The second annual Digicel Breast Cancer Awareness road race featuring the cream of Guyana's wheelsmen is just one day away.
According to race coordinator and president of the Roraima Bikers Club (RBC), Brian Allen, all systems are in place for the staging of Guyana's most lucrative cycling event following Thursday's technical meeting.
Allen told Stabroek Sport yesterday that the Guyana Police Force as well as eight medical personnel from the Red Cross will ensure all cyclists compete in a safe environment throughout the grueling 80-mile race which pedals off in Linden and concludes at the National Park.
The RBC head also reminded that the senior winner of the event will pocket a record $240,000 while the second and third place finishers will cart off $180,000 and $150,000 in that order.
The sum of $50,000 each will also go to the winners of the female, junior and veteran categories.
Registration closes today at Digicel's head office in Kingston at 14:00hrs.
Tomorrow's race is scheduled to pedal off at 08:00hrs at the famous Five Corners in Linden. Cyclists and officials are asked to start assembling from 4:30am at Digicel in order to depart at 5:30am sharp.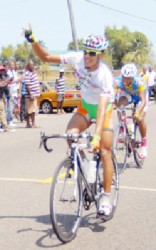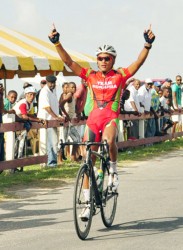 Allen also told this publication that he expects in excess of 100 riders to compete in the highly anticipated event. He also reiterated that once the race is in the vicinity of the National Park, no unofficial vehicles will be allowed beyond the junction of Carifesta Avenue and Vlissengen Road.
Last year's winner was Junior Sportsman of the Year, Paul DeNobrega, who has a knack for winning big money events. DeNobrega who earned a gold medal at last year's Junior Caribbean Cycling Championships, was also the winner of the second annual Kadir Mohamed Memorial Ounce of Gold road race earlier this month.
The talented cyclist rode off with an ounce of gold worth approximately $225,000 and the winner's trophy.
DeNobrega along with national road race champion, Raynauth Jeffrey, the inform Alanzo Greaves and other national riders like Orville Hinds, Marlon 'Fishy' Williams, Robin Persaud and Godfrey Pollydore will start as favourites for tomorrow's race which is staged to raise awareness of breast cancer.
Around the Web