BRIDGETOWN, Barbados, CMC– Reigning Wimbledon champion Andy Murray will headline Barbados' Dream Cup opening next month.
Organisers say the Dream Cup, into its third year, was organized to promote opportunities for young, aspiring Barbadians, through the creation of a world-class tennis event. The November 28th to December 1st tournament will be covered live by ESPN while the Trinidad based media partner Toute Bagai Publishing Company, producers of MACO publications will promote the event to neighboring islands and to the Diaspora through their travel portal macocaribbean.com.
The 26-year-old Scottish-born Murray, who has agreed to be part of the 2013 event, has been playing for Britain since the age of 12 and is currently ranked number three in the world.
The last eighteen months has been his best, winning Gold at the 2012 Olympics followed by the 2012 US Open obtaining the first Grand Slam title for Britain in over 70 years.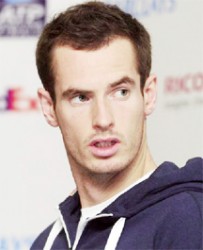 In July, he went on to become the first British male to win the Wimbledon title since Fred Perry in 1936.
"Most Caribbean islands have not cultivated a tourism industry based beyond Sun, Sand and Sea. I firmly believe that we need to bring some sort of diversity to our tourism proposition such as these events," said Managing Director of Toute Bagai publishing company Neysha Soodeen.
"MACO is thrilled to support The Dream Cup as it has already partnered with the Barbados Tourism Authority to promote Barbados intra-regionally".
Senior Business Development Manager of the Barbados Tourism Authority (BTA) Linda Christian-Clarke has described the Dream Cup as the realization of a dream for the BTA.
She said the fact that Barbados could attract sportsmen of the caliber of Andy Murray, Juan Martin del Potro, Richard Gasquet and Nicolas Almagro is truly extraordinary. "The fact that ESPN3 and ESPN International are providing live coverage and that Murray, the Wimbledon champion, is going to be back in action for the first time following his surgery, means that the eyes of the world will be on Barbados" she contended.
The BTA official said it is also significant that the novel prize offered –  $ 500,000 US worth of beachfront accommodation for five years at St. Peter's Bay – gained acceptance with these top class players. "It shows that Barbados remains very much a desirable destination for the rich and famous and an aspirational one for all of our markets," said Christian-Clarke.
"In particular, I would like to invite our Caribbean neighbours to share this great tennis tournament with us.  It will probably be unlike any other spectacle of that sport ever in the region".
Around the Web