(Reuters) Derrick Rose still has it.
Playing his first regular season game at the United Center since suffering a torn anterior cruciate ligament in his left knee on April 28, 2012, Rose scored with 5.7 seconds remaining to send the Chicago Bulls past the New York Knicks 82-81.
Rose drove down the right side of the court and hit a tough, one-handed pull-up from 12 feet over Tyson Chandler and Raymond Felton.
Rose finished with 18 points but hit just 7-of-23 shots from the field.
On the last possession of the game, New York's Carmelo Anthony missed a 22-foot jumper and Chandler's tip didn't fall as time expired.
Anthony led the Knicks with 22 points. Luol Deng added 17 points for Chicago and Joakim Noah grabbed 15 rebounds.
– –
 Clippers 126, Warriors 115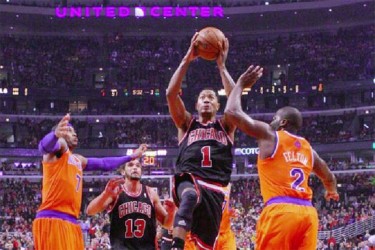 The disappointment of a season-opening loss were decisively exorcised by the Los Angeles Clippers with a 126-115 win over the Golden State Warriors at the Staples Center.
All it took were a slew of thunderous alley-oop dunks by Blake Griffin, a whole lot of Chris Paul and a statement win over the Warriors, who the Clippers believe will wage a season-long battle with them in the Pacific Division.
Paul, shaking off a slow start in Tuesday's loss to the Lakers, scored 42 points, 15 of which came in the fourth quarter, and had 15 assists. Griffin finished with 23 points and 10 rebounds.
The Warriors stayed relatively close in the fourth quarter, thanks mostly to Stephen Curry, who scored 16 points over the first six minutes of the quarter to cut the lead to eight points.
Curry finished with 38 points while sinking 14 of 23 shots, including nine of 14 three-pointers.
Davis Lee added 22 points before fouling out in the fourth, Andre Iguodala scored 14 points and 11 assists and Andrew Bogut had 17 points for the Warriors.
Around the Web