National Cycling Coach, Hassan Mohamed has organized back-to-back events this weekend to keep the competitive juices of the nation's wheelsmen flowing ahead of next week's seventh annual Ride For Life five-stage road race.
Tomorrow, the inaugural C. Doekie and Sons Contracting Services, B&R Investment 11-race programme will be staged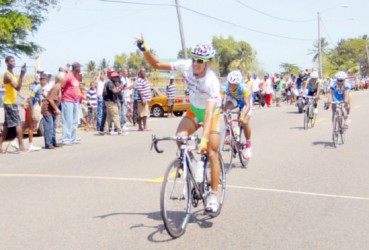 from 09:00hrs on the inner circuit of the National Park and is expected to attract the cream of the nation's riders.
The feature Invitational 35-lap event will see the top juniors and seniors like Michael Anthony, the in-form Alanzo Greaves, national road race champion, Raynauth Jeffrey, Hamzah Eastman, Albert Philander, Robin Persaud and others going wheel-to-wheel for the top honours.Other categories scheduled to be contested are the 12 to 14 years boys and girls (3 laps), veterans under-50 years (5 laps), veterans over-50 years (5 laps), veterans over-60 years (5 laps), juveniles (10 laps), upright cyclists (5 laps), BMX boys open (3 laps), BMX boys 12 to 14 years (3 laps), BMX boys 9 to 12 years (3 laps) and BMX boys 6 to 9 years (3 laps).
On Sunday, the riders will take their talents to the open roads to compete in the 14th annual Diamond Mineral Water 50-Mile road race which begins at 08:00h from Wales Police Station.
The race will then continue to Bushy Park on the East Bank of Essequibo before returning to the Demerara Harbour Bridge for the finish.
The veterans, mountain bikers and females will turn back at Uitvlugt Community Centre and finish at the Harbour Bridge.
The first six senior finishers, three juniors, veterans, females, mountain bikers along with the first veteran over 60 years will all receive prizes.
Eight sprint prizes will be up for grabs during the gruelling event.
Junior Sportsman of the Year, Paul DeNobrega carted off the spoils last year after stopping the clock in two hours, two minutes and 18 seconds.
Junior Niles (veteran) and Julio Melville (Mountain Bikers) were the other category winners.
Representatives of Diamond Mineral Water (DDL) will distribute the prizes to the top finishers.
The gruelling 266-mile, Ride For Life five-stage event will roll off on November 14 in Berbice.
Around the Web