In an extraordinary display of speed, power and stamina, Warren '40' McKay rode wire to wire and emerged winner of yesterday's Diamond Mineral Water 14th annual 50-mile road race at West Demerara in a thrilling four-man sprint finish.
In the event which McKay never trailed, he stopped the clock at one hour, 54 minutes and eight-seconds and carted off three of the eight sprint prizes in the process.
The Roraima Bikers Club (RBC) standout led Akeem Wilkinson (Team Alanis) and Hamza Eastman (Team United) onto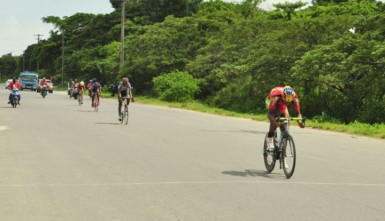 the podium while his club mate Mark Harris, Delroy Hinds (Team United) and Geron Williams (Continental Cycle Club) filled out the top six paid positions.
Wilkinson (two), Eastman (two) and Harris (one) also sped off with sprint prizes.
In brilliant sunshine, the gruelling event which rolled off at Wales, proceeded to Bushy Park and finished at Schoonord, saw the top four and Silvio Innis taking it to the rest of the 54 starters from the smoke of the pistol.
The five riders rode as a unit until the turn back point and managed to stretch their lead to almost a minute on the chase peloton.
At this stage however, Innis suffered mechanical problems and was dropped from the lead pack.
The tireless foursome of McKay, Wilkinson, Eastman and Harris continued to work in tandem and steadily increased their lead with every powerful turn of their pedals.
Despite valiant efforts from the chasers which included Hinds, Williams, current and last year's road race champions, Raynauth Jeffrey, Orville Hinds, the inform Alanzo Greaves, Robin Persaud, Paul DeNobrega and others the front bunch's lead extended to almost two minutes when they were at Vreed-en-Hoop.
With 200m from the finish, team work was expectedly thrown out the window and the four leaders rose from their saddles and a fierce sprint battle ensued.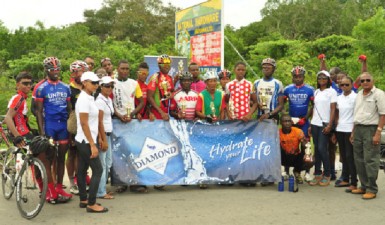 McKay, blessed with superb sprint prowess however powered across the finish line to claim his third win of the season.
Other categorical winners yesterday were Eastman, Jamal John, Ozia McAulay, Esau Oselmo and Walter Isaacs.
Trish Doodnauth, Marketing Assistant of sponsor, Demerara Distillers Limited (DDL) congratulated the top finishers of the race and aided in the distribution of trophies and other     prizes.
Organizer of the event, National Cycling coach, Hassan Mohamed thanked Doodnauth on behalf of DDL for their sponsorship and applauded the riders for competing in the incident-free race.
Mohamed also reminded the wheelsmen that the seventh annual 'Ride For Life, five-stage road race pedals off on Thursday in Berbice.
Full Results 
Seniors
Warren McKay 1:54:08
Akeem Wilkinson
Hamza Eastman
Mark Harris
Delroy Hinds
Geron Williams
Juniors 
Hamza Eastman
Mario King
Stepano Husbands
Females and Tiny bites 
Jamal John
Alfie Sonoram
Toshawana Doris
Mountain Bikes
Ozia McAulay
Clyde Jacobs
Michael Holder
Veterans 
Esau Oselmo
Mark Sonoram
Linden Blackman
Oldest cyclist 
Walter Isaacs
Around the Web