ST. GEORGE'S, Grenada,  CMC – Former West Indies wicketkeeper-batsman Junior Murray is preparing to launch a cricket academy in Grenada.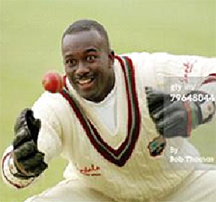 Murray, who played for Grenada, Windward Islands and West Indies, is spearheading a series of initiatives under the Junior Murray Brand, including an academy, according to Made In Grenada, the strategic partner responsible for the overall management of the brand and its activities.
The cricket academy will serve young Grenadians between the ages of 5 and 15 and is geared toward the development of the game locally through the services and expertise of one of Grenada's most celebrated heroes.
"Since Saturday November 23rd, introductory and registration sessions have begun at the Roy St John Playing Field and will continue every Saturday until the end of this school term," said a statement from Made In Grenada.
"The Academy resumes in the new school term and Teachers and Parents are encouraged to ensure the attendance of those young ones interested in learning the game or improving their skills".
Preparations have also started for the staging of the first annual Junior Murray/Made In Grenada Celebrity Cricket match in February.
The inaugural match will form part of the festivities to celebrate Grenada's 40th anniversary of Independence.
The match will feature local personalities from the sporting and entertainment fraternities along with regional and international cricket friends of Junior Murray.
Murray played in 33 Tests and 55 One-Day Internationals for the West Indies where he scored more than 1500 runs in both versions of the game.
He also had 99 catches in his Test playing career and scored close to 6,830 runs in First Class competitions.
Around the Web