(Reuters) – The red-hot Miami Heat showed no signs of sluggishness from their massive US Thanksgiving dinner at LeBron James's house, grinding out a 90-83 win over the Toronto Raptors for their ninth consecutive victory on Friday.
A day after some Heat players were photographed at James's Akron, Ohio, home passed out from a massive meal typical of the holiday, Miami was forced to fight off a spirited Toronto rally before extending the league's longest active win streak.
Miami looked headed for a blowout after building a 20-point lead with about five minutes left in the third quarter, but the Raptors closed out the period with a 16-4 run and then pulled to within two points with less than five minutes to play.
But James took over from there, scoring his team's final seven points to lead the two-time defending champion Heat with a game-high 27 points on 10-for-17 shooting.
"We're a veteran ball club and we've been in every situation that a game can present itself with," James said. "We don't panic. We just want to try to get stops and execute offensively and we did that in the last couple minutes."
DeMar DeRozan scored 25 points for the Raptors who were undone by horrendous free-throw shooting, especially late in the game when they missed six from the line in the final five minutes.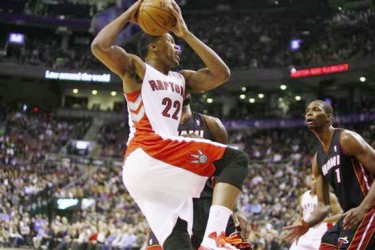 It marked the second successive loss for Toronto (6-9), who entered the game with a one-game lead in the Atlantic Division where all five teams have losing records.
Miami (13-3), one of just three teams in the 15-team Eastern Conference with a winning record, will enjoy a day off before hosting the Memphis Grizzlies on Sunday.
While Miami seemed sharp for the bulk of Friday's game, the chance to have a full day of rest after Thursday's big meal may be just what some of the players are craving.
"It was good," James said of the meal he helped prepare for his team.
"It put a lot of people to sleep and when people are sleeping that means it was a success."
Around the Web