TORONTO, Canada,  CMC-Former West Indies batsman Gus Logie has been sacked as the coach of Canada, Cricket Canada announced yesterday.
Logie's dismissal follows Canada's recent failure in the ICC World Twenty20 Qualifier, where they missed out on securing a spot in the 2014 tournament.
Canada finished 12th after winning only two group games out of seven and Doug Hannum, CEO of Cricket Canada, said it was time for the board to act.
"This is obviously a challenging time for the organisation but this decision is made with a view to prepare and send the best team to the World Cup Qualifier in January," Hannum said.
"Unfortunately you cannot change 15 players at once and something had to give. It's up to the playing group to pick themselves up give a good account of themselves in New Zealand."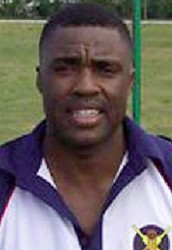 Canada is currently chasing one of two spots available for the 2015 World Cup in Australia and New Zealand.
ODI status and a place in the ICC High Performance Programme are also at stake.
"We would like to thank Gus for all that he did while he was with us," said Ravin Moorthy, the Cricket Canada president.
"His efforts in 2003 in South Africa are part of Canada's sporting history and his hard work and dedication to his craft are unparalleled".
Logie, 53, who played 52 Tests and 158 ODIs for West Indies between 1981 and 1993, had had a stint with Canada during the 2003 World Cup.
In 2005, he signed a long-term coaching deal with Bermuda but left them in 2009 after criticising the cricket set-up in the country.
He replaced Michael Dighton for Canada in June last year.
"It's unfortunate that his tenure had to end after the disappointing tour of the UAE," said Moorthy.
"But unfortunately this is a results-driven business and the results just weren't there."
Logie's replacement has not yet been named.
Around the Web