Former head coach of the Golden Jaguars, Jamal Shabazz presented a quantity of bibs and game balls to co-founder of the Kashif and Shanghai (K&S) Organization, Aubrey 'Shanghai' Major yesterday in Trinidad to aid in the preparation of the secondary schools in Linden.
The gesture answered the call made by the coaches of the schools in the mining town following Shabazz's coaching seminar for the coaches of the 24 competing schools in this year's tournament.
This year's 24th edition of the annual competition will feature 24 of the nation's top secondary schools vying for top honours instead of the traditional senior ball clubs.
The event kicks off on Sunday at the Georgetown Cricket Club (GCC) ground. Yesterday, Shabazz said with Allah's blessings, the K&S Organization can look forward to more support next year.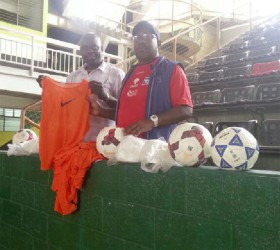 On behalf of the K&S Organization, Major thanked Shabazz for his continued support which has helped with the development of Guyana's football and promised that the 24 secondary schools taking part in this year's tournament will be the pillar on which Guyana's football will stand.
Wismar/Christianburg, Wisburg Secondary, New Silver City and McKenzie High School are the schools that will be representing Linden. The city teams are St. George's Secondary, Lodge Secondary, East Ruimveldt Secondary, North Georgetown Secondary, Queen's College, Dolphin Secondary, Christ Church Secondary and Queenstown Secondary.
Waramadong is the team from Region Seven. The East Bank of Demerara teams are Covent Garden Secondary and Friendship Secondary.
The Ancient County will be represented by Ash Education Trust while Bladen Hall, President's College, Ann's Grove Secondary and Annandale Secondary will come from the East Coast.
Leonora Secondary, Stewartville Secondary, Uitvlugt Secondary and Patentia Secondary are the schools from the West Side. These were the top 24 teams in the Digicel nationwide school's tournament which was staged earlier this year.
The winner of the tournament will pocket a record $1.2M in cash of which 75% will go towards a project identified by the school. The institutions placing second, third and fourth will each receive prize monies amounting to $750,000, $500,000 and $250,000, in cash respectively. However, 75% of total prize will also go towards a project identified by the school.
The MVP of the tournament will receive one Laptop Computer.
The winning team will receive a trophy and 25 replicas in addition to the prize money.
The second and third place teams will receive trophies and 25 silver and bronze medals respectively, while the fourth place team will receive a trophy.
Around the Web