(The Sports Xchange) – Highlights of Wednesday's National Basketball Association games.
– – –
Pacers 95, Jazz 86
The Indiana Pacers dominated the fourth quarter by using their stifling defense to pick up a road victory over the Utah Jazz.
The Jazz, who led by as many as 11 points in the first half, only scored nine points in the first 8 1/2 minutes of the final period while the Pacers built a double-digit lead.
Swingman Paul George struggled from the field, shooting just 7-for-20 and 1-for-8 from three-point range, but scored 19 points as Indiana (17-2) bounced back from Monday's tough road loss to the Portland Trail Blazers.
The Jazz (4-16) saw their season-best, two-game winning streak snapped.
– – –
Hawks 107, Clippers 97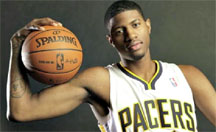 Kyle Korver tied an NBA record by making a three-pointer in his 89th consecutive game as the Atlanta Hawks knocked off the visiting Los Angeles Clippers.
Korver, who missed the previous four games with a bruised rib, finished with 23 points and made six three-pointers for the Hawks (10-10).
Dana Barros also connected in 89 consecutive appearances with the Boston Celtics in the late 1990s.
Blake Griffin scored 24 points for Los Angeles (12-7).
 – – –
Mavericks 100, Pelicans 97
Dirk Nowitzki scored 15 of his 21 points in the second half, including his team's last five points, and guard Jose Calderon added a pair of three-pointers in the fourth quarter to lift the Dallas Mavericks to victory.
The game was tied at 97-97 in the final minute when Nowitzki made three free throws to seal it.
The Pelicans' last shot – a three-point attempt by forward Ryan Anderson at the top of the key – hit the back of the iron at the buzzer.
The Mavericks (12-8) recorded their fourth consecutive victory over the Pelicans (9-9), who were led by 26 points from Jrue Holiday.
 – – –
Suns 97, Rockets 88
The Phoenix Suns answered a late Houston Rockets rally with a series of clutch jump shots to claim a tough road victory.
Despite trailing most of the game, Houston pulled within 75-74 midway through the fourth quarter but the Suns responded with 15-0 blitz.
Eric Bledsoe led the Suns (10-9) with 20 points and the Rockets (13-7) saw their six-game home winning streak end as they posted a season-low point total.
Around the Web