Buxton United defeated Seawall FC 2-0 when action in the Georgetown Football Association (GFA)/Banks Beer Knockout Cup continued on Friday at the Buxton Community ground on the East Coast Demerara.
Buxton United's Clive Andries set the early tone of the matchup as he rifled his right-footed volleyed strike from 24 yards out on the right side of the field, marginally wide of the top left hand corner.
A desperate attempt at a goal line clearance by a Seawall defender in the 17th minute was dismissed by the officiating referee, as Michael Phyll broke the deadlock for the East Coast unit with a perfectly weighted lobbed effort over the Seawall keeper from the centre of the park.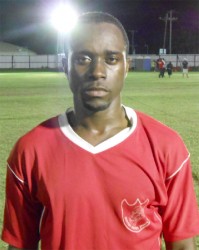 Denver Dennis almost made it 2-0 in the 23rd minute as his right-footed strike from the left side of the field was headed away before breaking the goal line by Seawall's Jason Critchlow after the Seawall shot stopper failed to hold onto a right-sided cross.
Dennis was at it again, this time in the 39th minute, with a powerful right footed free kick from 29 yards out on the left side, that sailed just wide of sneaking into the bottom left-hand corner.
Constantly under threat throughout the match, Seawall almost fell further behind in the 57th minute as a Keoma Sullivan left-sided free kick was denied acrobatically by the Buxton custodian.
Registering the only conversion separating the two sides, Phyll should have doubled the East Coast side's lead in the 69th minute.
Racing into the left side of the penalty area, Phyll attempted to strike a first time, right-sided cross from Andries, but missed the ball entirely as it rolled under his foot. He however tried to make amends for his earlier embarrassment with a neat a 78th minute conversion.
Marauding down the left side to help initiate a Buxton counterattack, Phyll received a Jamal Booker right sided pass inside the box, before finishing his effort in a one-on-one situation under the diving body of the Seawall custodian to the right hand side to seal the win.
Around the Web