BRIDGETOWN, Barbados,  CMC– West Indies fast bowler Kemar Roach will soon start rehabilitation work after completing surgery for a right shoulder injury in Jamaica.
Roach, who has been sidelined since early November when he was forced to return from the tour of India, will continue his rehabilitation in Barbados.
"I'm feeling quite fine at the moment," Roach told WICB Media.
"The surgery was successful so I know I have to get my rest and start my rehab and when the time is right I will look to make a comeback to the playing field".
Roach, the West Indies' most successful fast bowler in Test cricket in the last two years, says he is confident of making a successful return to the international stage.
"It's my bowling arm so I'm fully aware that it will take some time before I get back out there," he said.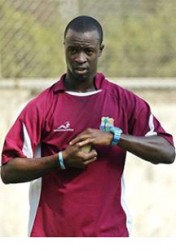 "When I come back I want to make sure I'm full ready so I can continue to get a bag of wickets for the West Indies."
Roach has taken 85 wickets in 23 Test matches at an average of 27.71 and 94 wickets in 61 One-Dayers at an average of 26.77.
The 25-year-old is presently at Number 14 in the ICC Test Match Bowling Rankings and at Number 16 in the ICC ODI Bowling Rankings and is looking to break into the Top 10 on his return.
"I have a progress and recovery plan mapped out and I will follow it," he said.
"My short-term goal is to break into the Top 10 in Test bowling and also look to help push West Indies back to the top in all formats".
Around the Web