For those who have not yet had the opportunity to see it, the GT&T Guyana Star Jingle and Song Competition final can be viewed tomorrow from 8 pm on the regular channels.
But here's a preview: It was a night of highs and lows, but overall a spectacular production and event to wrap up five months of competition.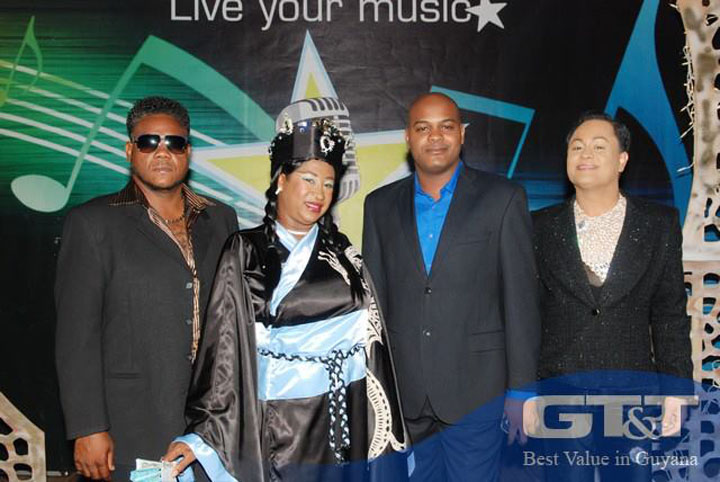 Ten finalists performed on the National Cultural centre stage on June 14 in a bid to win. The contestants had to submit any three songs and the producers would select one. Some were exceptional beyond words, others were bland and one in particular was a huge disappointment.
The Production
The stage sparkled with fairy lights, 'floating' musical notes and multi-coloured LED lights. Hostess Nuriyyih Gerrard was royal in a gorgeous purple dress and sparkling smile. The judges were spectacularly attired: Sean Bhola and Gordon Moseley looked smooth; Joel Ghansham added a dazzling scarf to his ensemble and Charmaine Blackman wore Chinese attire.
The ten finalists in an opening performance sang Bob Marley's "One Love", which would have been flawless had Edward Perez not forgotten the first line of his stanza. The crowd welcomed Dorian Obermuller back and he sang the second stanza much to their delight.
Classique Dance Company was on stage next, performing to Nicki Minaj's version of "Freaks".
After the Heatwave Band's Calvin Burnette rendition of Neyo's "Ms Independent", a mature-looking Brandon Harding performed.
The Showdown
T-Shanna Cort (Contestant E13) was the first to step on stage and perform Kelly Clarkson's "A Moment Like This". Gordon said she seized the moment and brought her 'A' game at the final, Charmaine said she put in a lot of effort and work which paid off and Joel said she had set the tone for the evening.
Lerone Souvenir (Contestant E06) was next. He stayed in his comfort zone, singing Bob Marley's "Could You Be Loved" and certainly sealed the deal as one of the audience's favourites. Sean said it was the absolute best he had seen from Lerone throughout the competition. Charmaine commented that this was the Lerone she always saw and Gordon said Guyana has fallen in love with Lerone Souvenir.
Michael Small (Contestant E09) did John King's "How Many More" with several back-up dancers who portrayed a story as he sang. His presentation was a step up and his vocals quite consistent. Sean said it was commendable that Michael used the opportunity to highlight one of the issues in society.
Edward Perez (Contestant E10) was casual to the point of looking a bit unprepared. He sang Beres Hammond's "I Feel Good", which was Brandon's wining song last season. The judges remarked that his improvement was just what GT&T was looking for, developing talent.
Natasha Yhapp (Contestant E18), who rocked in the Quarter and Semi-finals, singing Alicia Keys' "Superwoman" and Rihanna's "Man Down" was magnificent with Gloria Gaynor's "I Will Survive". However, she did not use the stage at all which might be to her detriment.
There was a break in the competition during which Comedienne Leza Singh, better known by her stage name 'Radika' performed, followed by Kwesi Edmondson, finalist in the 2013 Carib Soca Monarch who recently launched himself as a solo act.
Darren Benjamin (Contestant E03) had massive support from the audience who held up posters bearing his name and voting number, there were loud cheers before and during his performance of Christopher Martin's "I'll Be Your Driver". But then he stopped the song to say, "I'm gonna find me a lady tonight". Obviously rehearsed, a woman from the audience made her way to the stage on his command. When she was in front of him, he took off his shirt to reveal his vest underneath. The woman dropped to her knees and he threw the clothing over her head. In response she amorously groped his belt as he sang her the lyrics.
This was an all-time low for Darren and without a doubt the worst performance on the Guyana Star stage. He received loud applause, but when it came to the judges, Gordon was the only one to encourage Guyanese to still vote for him. Charmaine just stared at the microphone before saying "Best of Luck." Joel just kept shaking his head in disappointment. Sean started, "To be honest… that was not what I expected of you. You sang the entire song off key."
After this remark an even louder applause thundered as many in attendance agreed.  Lemuel Chester (Contestant E30) took to the stage next with "Just The Way You Are" by Bruno Mars. It was nothing short of beautiful how he changed the song in such a way that it blended perfectly with his vocals yet didn't stray away from what we already love of the song. But he did not use the stage and faltered towards the end.
Ryan Hoppie (Contestant E12) in 'all white everything' sang Chris Brown's "Crawl" complete with two backup dancers, the perfect addition to the performance. Ryan also got a young woman up on stage, but he serenaded her proposed to her and they danced and hugged at the end of the performance. He received a standing ovation and the audience chanted his name. The judges had nothing but praise.  Diana Chapman (Contestant E20) did a near imitation of Tina Turner's version of "Rolling On The River (Proud Mary)" in a blazing golden outfit. It was almost flawless except for the part when she rolled so much and stumbled backwards in her heels. The audience and judges loved it. Gordon mentioned that she was one who always stood out and Joel expressed his love for the outfit along with her energy and performance.
Dorian Obermuller (Contestant E8), previously voted off, but returned following Neil Maraj's drop out, sang Sia and David Guetta's "Titanium" which by all accounts proved that he deserved to be in the final. His only fault was that he hardly used the stage. A minute section of the audience was not amazed at all and booed and heckled, but was roared by thundering applause. Gordon and Charmaine loved the performance. Joel told him, "Be happy! Be yourself because you have the empowerment to be what you can." Sean said he could not imagine the finals without Dorian. "There was never a point from rehearsals when he didn't better himself in every performance," he said.
Who will be the next Guyana Star? Viewers are now invited to vote for their favourite singer by texting that contestant's number to 620-VOTE (8683). Voting costs $30 and can only be done on GT&T mobile devices. Voting opens after tomorrow's show.
Around the Web