By Dominic Gaskin
(This is part one of a two-part series on the jewellery industry in Guyana. The second instalment will appear in Friday's Stabroek Business)

Guyana's exports for the year 2013 totalled US$1.375 billion. This comprised: gold US$648 million, Rice US$239 million, Bauxite US$134 million, Sugar US$114 million, Seafood US$76 million, Timber US$38 million, Prepared foods US$26 million, Rum and alcohol US$19 million, Diamonds US$12 million.
This article will explore the development of a jewellery industry that can become one of Guyana's top exporters within 15 years and finally transform that familiar list of exports from which we have been attempting to diversify for so long.
With the right strategies and a lot of hard work, Guyana can one day become the jewellery capital of the Atlantic. With a long tradition of goldsmithing, Guyana is still regarded within the region as a good source of gold jewellery and this can serve as a useful springboard for a sustained effort to target mainstream international jewellery markets.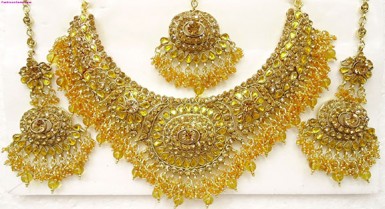 It is important to understand that, left to its own devices, the local jewellery manufacturing sector is unlikely to develop into a progressive and competitive industry capable of penetrating foreign markets. Apart from the fact that it hasn't happened yet after so many decades of existence, there are other indicators that underscore the need for intervention if the industry is to ever take off.
Guyana still does not have a modern jewellery manufacturing industry. A modern jewellery manufacturing industry should be capable of efficient production of a wide range of items of specified standards using a variety of technologies and materials. Currently, what is produced locally is mainly gold jewellery. Compliance with the applicable standards is not widespread and production methods are still very basic.
The jewellery manufactured in Guyana does not even meet the full demands of the local retail sector. Jewellery retailers the world over need to stock a variety of jewellery items in order to attract consumers and give them the choices they have grown accustomed to. Guyana's retailers cannot ignore this reality. However, local manufacturers do not produce a wide enough range of items to supply an attractive retail sector.
The widespread availability of imported gold jewellery in Guyana is not reflected in official data. Customs data from 2009 to 2012 shows annual jewellery imports ranging from $25 million to $50 million, however, virtually all of these imports were classified as imitation or base metal articles. In other words there were no declared imports of gold jewellery.
The consequences of this situation cannot be ignored. By failing to modernize, the local jewellery manufacturing sector is now at a competitive disadvantage in meeting even local demand which is increasingly being filled by imports. Like most consumer items, jewellery will see increased demand as long as there is economic growth. This demand will increase even further if tourism to Guyana increases. Every effort should be made to ensure that any increase in demand is met by locally produced jewellery. If not we will be squandering the opportunity to capitalize on our decades-old reputation as a source of jewellery.
A way forward should be explored at a level capable of bringing about policy changes that can transform this industry, and such an effort must be informed by expertise from within the industry. The result should be ambitious and must involve new thinking if it is to bear fruit.
A modern jewellery manufacturing industry for Guyana should not be conceptualized within the realm of local gold mining. This thinking has stifled development so far, and any strategies going forward should not be constrained by considerations relevant to the mining industry. The requirements for modernization need to be identified and these cannot be subordinated to the priorities of the extractive sector, if we are serious about diversifying from the primary products that dominate our list of exports.
The basic requirements of a modern jewellery manufacturing industry are:
1. Access to a full range of refined metal products and other raw materials and semi-finished products at competitive prices.
2. Access to technology and equipment at competitive prices.
3. Access to industry expertise and support.
4. Trained staff
The lack of availability of these prerequisites in Guyana is compounded by the failure to appreciate the extent to which they are lacking and the importance of having them available. When it comes to raw materials, the fact that Guyana is a gold and diamond producing country makes it difficult to accept that we do not have adequate supplies for a jewellery manufacturing industry. However, for the purposes of modern manufacturing, our naturally occurring materials need to be processed before they are suitable for use, and we have not yet developed the capacity to process them. Raw materials for jewellery manufacturing include, among many more:
● Refined gold in different forms (ingots, shot)
● Various karats/alloys of gold in different forms (ingots, shot, sheet, wire, solder, finished components)
● Refined silver in different forms (ingots, shot)
● Sterling silver in different forms (ingots, shot, sheet, wire, solder, finished components)
● Various metal alloys in different forms (shot, sheet, wire, solder)
● Diamonds (cut and polished) in all shapes and sizes
● A variety of gemstones (cut and polished) in all shapes and sizes
These items would all have to be imported if we wanted to start even medium scale production. Most of the pieces on display in jewellery stores around the world simply cannot be produced with what is available here. The current import taxes on certain raw materials not obtainable in Guyana are quite high and this creates a deterrent to their use, thereby preventing the industry from expanding its range of products.
The fact that local goldsmiths are still purchasing raw gold of an unknown purity for the purposes of manufacturing puts them at a distinct disadvantage when it comes to quality of product and efficiency of operations, with the consumer ultimately picking up the tab for any discrepancies in the purity of the gold. Unrefined raw gold is simply not an ingredient utilized by jewellers internationally.
Gold generally reaches the industry via refineries which remove both the impurities and the guess work from any subsequent manufacturing process. Refineries rely on reputation as well as certification to provide assurance to their clients, and the purity of their products is seldom questioned. The lack of a gold refinery in Guyana has resulted in a corresponding lack of refined gold available for industry use. Most local goldsmiths are content to work mainly with recycled jewellery or raw gold since this is what they've always been doing – a perfect case of not missing what you've never had.
Frustrating this situation even more is the fact that the few interventions undertaken so far have focused mostly on making the best of the existing scenario rather than putting in place policies and strategies to support a more mainstream industry that could become a viable option for entrepreneurs and serious investors.
An understanding of how the international jewellery industry operates is crucial to any discussion aimed at transforming the local sector and this unfortunately is also lacking. There is a wealth of expertise available when it comes to sugar, rice, timber and bauxite, but not so with jewellery which has the ability to surpass those products in export earnings.
It is unwise to proceed in any direction without the benefit of industry expertise and it is hopefully in recognition of this that a recent study was conducted aimed at discerning, among other things, the prospects of Guyana improving its participation in the global value chain for gold jewellery*. While that study contains useful information, it also contains some glaring inaccuracies and highlights the author's lack of familiarity with the industry. This does not mean it should be discarded. On the contrary, it provides a well-structured, current analysis that can be used as a starting point for a long overdue discussion on how to transform the sector. Hopefully this will soon follow.
*Global Value Chain Analysis of the Gold Jewellery Industry: Upgrading Trajectories for Guyana by Dianna DaSilva-Glasgow of the Caribbean Centre for Competitiveness, Institute for Critical Thinking, University of the West Indies
 Availability of diamonds, gemstones and other raw materials
The lion's share of the jewellery sold around the world each year reaches the consumer via physical retail outlets. It therefore makes sense to understand the inventory needs of the retailer before assessing the capacity of the local industry to supply the international market. From observation it can be easily determined that, while there are different types of jewellery retailers such as independently owned stores, branded outlets and chain stores, catering to both low and high-end consumers, most stores display a range of jewellery containing different precious metals, diamonds and gemstones.
As far as access to the necessary raw materials for manufacturing such a range of jewellery is concerned, precious metals such as silver, platinum and palladium are not locally produced and therefore have to be imported. Diamonds and gemstones are simply not produced in Guyana in sufficient quantities, calibrated sizes and consistent qualities for even small production runs. These too will have to be imported. This leaves just gold and, as we will see in a subsequent section of this article, there are certain challenges associated with accessing even this raw material.
Whether we intend to export jewellery or whether we simply wish to manufacture a greater proportion of what is sold in local stores, it is important to improve our ability to produce jewellery consisting of diamonds and gemstones. The use of diamonds and gemstones adds a premium to the value of jewellery produced. Additionally, if we are serious about increasing tourism to Guyana then the strategy for supporting and exploiting this increase must include the availability of an attractive range of locally made jewellery at competitive prices. Currently the rate of duty payable by manufacturers on imported diamonds and gemstones is a whopping 50%. Such a rate on high-value items such as these will kill any chance of Guyana becoming a competitive producer of this type of jewellery.
All of the US$12 million worth of diamonds (144,000 Carats) exported from Guyana in 2013 were rough diamonds. Unfortunately the diamonds required by jewellers are cut-and-polished diamonds, and Guyana's diamond cutting industry does not have the capacity to cut all the rough diamonds produced in Guyana. Even if it did, there is no guarantee that the diamonds cut would match the needs of jewellers in terms of grades and sizes. So while it would be nice to have an expanded local diamond-cutting industry, this will not necessarily solve the problem of supply for local jewellers. In addition the international diamond trading business is heavily syndicated, with the supply of rough diamonds to cutters tightly controlled, making it difficult for new cutting operations to enter the supply chain. Guyana's diamond production therefore will not factor greatly in the development and modernization of our jewellery industry.
Without policy changes aimed at encouraging the availability of these raw materials at competitive prices we will not develop a capacity to manufacture and supply these products to global markets. There is also the very real danger of local retail demand being met by undeclared imported items of finished jewellery. This is a deterrent to legitimate investments in the sector both at the retail and manufacturing levels and prevents growth and development of the industry.
There are numerous other materials and components that are not available locally but which jewellers will need access to if we are to manufacture for mainstream markets. The term "findings" is used in the industry to cover a whole range of precious metal fittings (clasps, settings etc) that are mass-produced and purchased by manufacturers as components. These can easily be imported directly from suppliers but such items are currently classified under Customs Tariff heading 71.13 as "articles of jewellery and parts thereof", and attract a 60% rate of duty. This is high and discourages the use of these standard industry components in favour of handmade substitutes which are not always as functional and not widely acceptable.
While having access to raw materials will not automatically develop the industry, it at least levels the playing field a bit between Guyanese manufacturers and those operating in the big jewellery centres around the world. Duty exemptions or low rates of duty on jewellery manufacturing materials will also reduce the temptation to smuggle these items into the country, and will allow manufacturers to better compete against undeclared finished items that may be imported by retailers.
Most raw materials required for jewellery manufacture are not on the list of commodities ineligible for exemptions under the terms of the Common External Tariff of the Caribbean Common Market. This makes it easy to amend the Customs Act to allow exemptions on these items.
It is worth noting that there is not likely to be much loss of revenue incurred by the government if it were to offer exemptions from duties on raw materials for the jewellery industry. The items being considered have not traditionally been imported and therefore their exemption from duties will not reduce revenues collected. An expanded formal jewellery sector on the other hand is likely to contribute more in taxes than an industry that is forced underground by policies that are not industry-friendly.
 Gold
The supply of gold to local jewellers is the domain of the Guyana Gold Board. It is perhaps not the most comfortable arrangement for any industry to have a state-owned agency as the sole supplier of its primary raw material, and it is safe to say that the arrangement is not working. At least not a lot of jewellers are buying.
The Guyana Gold Board is a State agency with responsibility for buying and selling gold produced in Guyana. It was created in 1982 presumably to ensure that as much locally produced gold as possible was exported and that the foreign currency earned from gold went to the government. It also acts as an agent of the Guyana Geology and Mines Commission in the collection of royalties paid by gold miners under the Mining Act; and as an agent of the Guyana Revenue Authority in the collection of the withholding tax paid by gold miners under the Income Tax Act. These amounts are currently set at 5% and 2% respectively and are deducted from the amounts paid by the Gold Board to miners at the time of purchase.
The price paid for gold is set by the London Gold Fix which occurs twice daily, and miners receive this amount minus the percentage of impurities in the gold supplied (determined by assay). It is at this point that the royalties and taxes are deducted. Miners are paid in Guyana dollars based on the current US$ exchange rate.
Because there is no local gold refinery, Guyana's gold must be sent abroad for refining. The purpose of a refinery apart from removing impurities is to convert gold into a standard format that allows it to be easily traded. A lot of the gold held as assets around the world is little more than a reference on a balance sheet and most gold trading transactions do not involve the physical movement of gold between parties. This is possible because the gold being traded refers to gold of a specific purity (99.9%) which can be reconciled with gold that actually exists. Because this physical gold has been refined in bars of standard sizes which are marked with the refiners name, serial number, purity and date of manufacture, its existence and presence can easily be verified by independent auditing of gold inventories. This, combined with industry accreditation for refineries and strict protocols for transferring gold between locations ensures confidence in the system. Some refineries specialize in products and services for the jewellery industry, while others mint coins and other stamped products.
Guyana's gold is refined and held by the refinery (Royal Canadian Mint) in an unallocated account (a claim on an amount of gold rather than a physically segregated amount of gold) until the Guyana Gold Board decides to sell. The gold is sold by Mitsui & Co Precious Metals Inc, a wholly owned subsidiary of Mitsui & Co, which specializes in precious metals trading around the world.
The point here is that gold trading is a formal, legitimate and well structured process that can accommodate the sale and purchase of gold in different volume-levels for a variety of uses without any uncertainty in the purity of the metal. Gold refineries play a key role in making the process work.
Under the Gold Board Act, all gold produced in Guyana must be sold to the Guyana Gold Board or to one of Guyana's seven authorized gold dealers. The authorized gold dealers can either export the gold they purchase or sell it on to the Gold Board. Goldsmiths are required by the same Act to purchase all their gold from the Guyana Gold Board. This then is the extent of formal gold trading in Guyana. The unknown nature of the gold being traded makes it necessary to conduct purity testing for each transaction and prevents its institutionalization as an acceptable asset for use by the financial and business sectors.
But gold trading in Guyana is not limited to these formal transactions. Locally mined raw gold is widely available to individuals desirous of purchasing gold, and there are strong indications that large amounts of gold are routinely being smuggled out of Guyana. The illegal gold trading business thrives on two factors: low purity and non-remittance of royalties and taxes.
The purity of Guyana's raw gold ranges approximately from 75% to 97%. The Gold Board will pay miners based on the purity of their gold after testing. This way no one is shortchanged. Many small traders who buy and sell gold locally tend to use a flat rate for buying and a flat rate for selling. Common sense dictates that a miner contemplating selling some of his gold "off the books", and knowing that traders will pay a flat rate regardless of gold purity, will select gold of the lowest purity for these transactions and keep his higher-purity (more valuable) gold for sale to the Gold Board. A lot of that gold is ultimately converted into jewellery without the issue of its low purity being properly addressed. In any event the end user, wittingly or unwittingly, gets the short end of the stick. So too does the entire Guyanese population since this gold represents undeclared gold for which the state is deprived of royalties and taxes due on a valuable and non-renewable national resource.
Gold trading internationally is generally a low margin business. In Guyana, however, the non-payment of royalties and taxes on undeclared gold creates higher than normal profit margins for traders of undeclared gold and compensates for some of the more risky aspects of this type of operation.
The dilemma for gold trading in Guyana is that the formal system is a restricted one, monopolized by the Gold Board, that leaves little room for most businesses and individuals to participate, and this has encouraged the development of a parallel sector that enjoys bigger profits than could be expected from a legitimate gold trading sector.
The solution to this problem lies in identifying and addressing the conditions which promote the undesirable aspects of the business, while examining different models that could represent desirable alternatives. As far as the jewellery industry is concerned, there are three options: do nothing and see what happens; try to coerce the industry into compliance with a system that has obvious limitations; or develop policies that would allow local jewellers to source refined gold without prohibitive taxation – 5% on imported gold will dent our chances of becoming competitive. Any foreign investor looking to get involved in large-scale jewellery manufacturing in Guyana would insist on importing refined gold and would demand concessions on import taxes. As in the case of other raw materials for the industry, the government has nothing to lose by exempting imported refined gold from duties. It is not currently earning any revenues from this and, in the long-term, will benefit more by encouraging formal transactions within the sector. (See next week's issue for part two on design and manufacturing.)
Around the Web