The Snowy Egret (Egretta thula) is a common sight on the coast and interior of Guyana. They are often seen following cattle or wading and catching fish in creeks and ponds. You can tell the Snowy Egret from the Little Egret or much larger,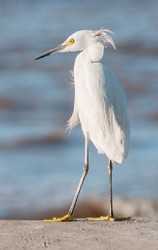 Great Egret, by its yellow "dancing slippers" (the feet) and all black legs.
During breeding season, the Snowy Egret acquires long, graceful plumes on its head, neck and back as in the photo.
Next time you see a flock of white birds, see if you can distinguish the Snowy Egrets!
"Iwokrama's mission is to develop strategies for conservation and sustainable development of the tropical rain forest system for local people in Guyana and the world at large. Come visit us in the Rain Forest or at our office, 77 High Street, Kingston, Georgetown. We are online at http://www.iwokrama.org. Also check
for updates on our Facebook Page- https://www.facebook. com/#!/IwokramaInternationalCentre"
Comments
Since the festival of Christmas commands a pre-eminent position – of observance and celebration – on Guyana's Annual Calendar of National Events, I thought I'd pen a few lines to provoke thought and meditation relevant to the "Real Reason for the Season".

To mark the anniversary of Martin Carter's passing on December 13, 1997, Gemma Robinson looks at Carter's Poems of Succession, published 40 years ago this year.
By Naicelis Rozema-Elkins It is about time, past due in fact, that the problem of sexual assault by teachers in our school system is addressed.

Focus on Guyana's National Budget 2018 represents the twenty-eighth edition of this Ram & McRae annual publication which highlights, reviews and comments on the major issues surrounding and raised in the National Budget.

By Mark Leonard LONDON – Over the last few weeks, media around the world have been saturated with stories about how technology is destroying politics.