The Snowy Egret (Egretta thula) is a common sight on the coast and interior of Guyana. They are often seen following cattle or wading and catching fish in creeks and ponds. You can tell the Snowy Egret from the Little Egret or much larger,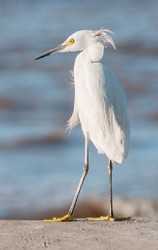 Great Egret, by its yellow "dancing slippers" (the feet) and all black legs.
During breeding season, the Snowy Egret acquires long, graceful plumes on its head, neck and back as in the photo.
Next time you see a flock of white birds, see if you can distinguish the Snowy Egrets!
"Iwokrama's mission is to develop strategies for conservation and sustainable development of the tropical rain forest system for local people in Guyana and the world at large. Come visit us in the Rain Forest or at our office, 77 High Street, Kingston, Georgetown. We are online at http://www.iwokrama.org. Also check
for updates on our Facebook Page- https://www.facebook. com/#!/IwokramaInternationalCentre"
Comments

By Clem Seecharan Clem Seecharan is Emeritus Professor of History at London Metropolitan University.

Cheddi Jagan returned from studies in the United States to a British Guiana in 1943 that was a cauldron of poverty.

Dr Jagan enjoys a ride on a ferris wheel with his grandchildren. Cheddi Jagan and Forbes Burnham leave then British Guiana to plead their case abroad, following the suspension of the constitution by the British in 1953.

Cheddi Jagan was born on March 22, 1918, and died on March 6, 1997.

By Sharief Khan (An excerpt from an interview with Sharief Khan reprinted from Stabroek News, December 11, 1987, page 5) In gaining a politician like Cheddi Jagan Guyana might have lost a cricketer.