Mangoes of many varieties are in season and tis the time to enjoy this fruit to the full extent. When you have had your fill of eating the first mangoes of the season, get ready to enjoy it in other ways that are just as pleasing and appetizing.
It is not often that I use the term 'quick and easy' to describe the preparation of a dish but it is very applicable here. There is no cooking involved, no mixing of a salad dressing either. It is simply a case of cutting up a few ingredients and tossing them together with a sprinkling of salt to bring out the flavours.
This is the type of salad that you can eat on its own or accompanied by seafood, chicken, pork or duck's breast that's been grilled, sautéed, steamed or fried.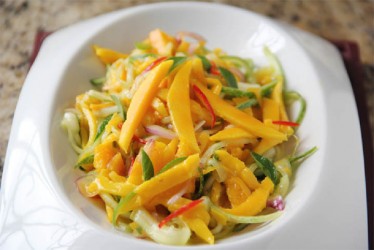 Depending on your preference for this salad, you can use a combination of a mango that is just turning (from green) in addition to a firm ripe mango. Do not use an over-ripe mango. You can also opt to exclusively use half-ripe mangoes for the salad.
INGREDIENTS
● 2 large mangoes (1 turning and 1 firm and ripe)
● 1 large cucumber, de-seeded
● 1 small red onion, thinly sliced
● 12 small basil leaves
● Minced hot pepper to taste
● Salt to taste
DIRECTIONS
1. Peel and slice the mangoes into thin strips.
2. Cut the cucumber into thin strips (peeling is optional).
3. Add the mangoes, cucumber, onion, basil leaves and pepper to a large bowl, sprinkle with salt and gently toss to mix. Taste the salad and adjust salt if necessary.
4. Serve immediately.
NOTES
● This salad should not be made ahead of serving; you can prep all the ingredients ahead of time but only mix and season the salad just before serving.
● There is no need for a dressing because the salt in the salad will bring out a little moisture from the ingredients. If your ripe mango seed is easy to squeeze after you have removed the flesh, then squeeze it right onto the ingredients in the salad.
● The basil leaves recommended are the type that is usually widely available in Guyana (married-man pork). Select the smaller, tender leaves; they bring an enticing flavour to the salad.
Around the Web