All across the Caribbean you can find a dish of stew-peas. Generally, it is made of red beans or kidney beans. In the Spanish-speaking Caribbean, the pinto beans are more regularly used.
Stew-peas on its own is a dish packed with protein and a vegetarian's delight. Add some pieces of salted pork or beef and you've got yourself a bowl of stew-peas that you can become rather selfish about. Just kidding.
While you can make stew-peas with canned beans, that certain something that makes stew-peas so delectable would be lost. The texture of the stew itself would be different and that of the beans too. The natural flavour of the beans will also be lost because the beans have not been able to cook long enough, or at all, in the liquid to impart its essence. Therefore, if you're going to make stew-peas, make the dish using dried beans that calls for an overnight soak in water to rehydrate.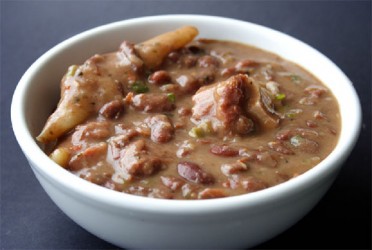 Some peas take longer to cook than others; this is where a pressure cooker can make quick work of your stew-peas. If using a regular pot with a lid, the peas should be cooked low and slow so that it can become soft and creamy. Cooking it at a roaring boil throughout the cooking process can result in the liquid quickly drying out and you having to add extra liquid to cook the peas. On the other hand, do not pressure your peas/beans so long that they melt completely.
INGREDIENTS
2 cups dried kidney beans, soaked overnight
3 tablespoons oil
1 cup diced onions
2 whole salted pig tails, de-salted and cut into
large chunks (see note below)
1 large bay leaf
3 sprigs fresh thyme
4 whole all-spice berries
1 (2-inch) piece stick cinnamon
3 whole cloves
Black pepper pepper to taste
Tap water
DIRECTIONS
Drain the soaked beans, rinse and drain again. Set aside.
Add oil to large pot and place on medium heat until hot. Add the onions, pig tails, bay leaf, thyme, all spice berries, cinnamon stick, cloves and black pepper and toss-stir to mix. Let cook until the onions are softened and the pot is fragrant with the herbs and spices. Reduce the heat if necessary; do not let the ingredients brown.
Add the drained beans and toss to mix. Cook for 3-4 minutes then add enough water to cover the beans. The water should be 2 inches above the beans. Bring the pot to a boil, if there is froth, gently remove it and then cover the pot. Turn the heat to low and cook until beans are soft.
Remove lid, turn up the heat and let the peas continue to cook to your desired consistency of a stew. Mash some of the beans to thicken the stew.
Shut off the heat and let the stew stand for about 10 minutes before serving. Remove the bay leaf but leave the spices, just let your guests know what they are.
The stew can be eaten on its own or with bread, rice, cornbread or boiled ground provisions.
NOTES
The salt for the stew should come from the salt
meat. Soak the salt meat overnight in boiling
water and that should be enough to remove the
excess salt. Use salt beef if you do not eat pork.
This dish can also be made without meat.
Red beans, black eye, black beans, pinto beans
and lentils can also be used.
All beans are not created equal in that some take
a longer time to cook than others so keep this in
mind generally but also when if are pressuring
the beans.
Add some little flour dumplings to the stew peas     if you like.
Garnish with thinly sliced scallions/green onions
when serving (optional).
Around the Web