Guyanese chess players are being given an opportunity to oppose some leading chess nations of the Caribbean owing to the hosting of the Umada Cup chess tournament locally. The Umada Cup is an organized FIDE competition under its President Kirsan Ilyumzhinov and boasts a prize fund of US$16, 000. As of last Wednesday, Trinidad and Tobago, Barbados, Jamaica and Suriname were already in place anticipating the start of the tournament which began Thursday at the Sleepin International Hotel, Brickdam.
Our local chess stalwarts, Drayton, Greenidge, Meusa, Feng, Thomas, Kriskal Persaud and Nathoo have been listed as participants in the competition. Selected members of the visiting teams have, at one time or another, represented their countries at the Chess Olympiads. New titles will be sought in the Umada Cup five-day competition which ends tomorrow.


In international news, Norway's Magnus Carlsen retained his world championship title after defeating India's Vishy Anand in their world championship chess match.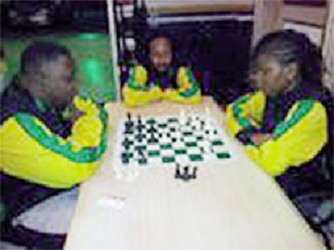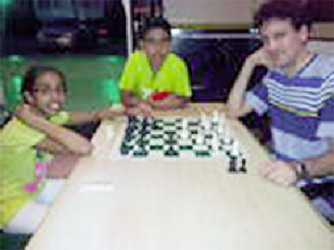 Two kids from Suriname, Alisha Jai Persaud, 11, and Ishvar Ramlal,12, and a male chess player from Barbados, Fide Master Martyn Del Castillo pause from a warm-up encounter to allow a photo to be taken on Wednesday afternoon at the Regency Hotel. The trio is here to participate in the Umada Cup five-day tournament. Del Castillo had emerged victorious in the 2011 version of the Umada Cup.
Around the Web