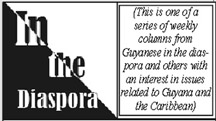 By Harold A. Drayton
Harold Drayton served as the First Deputy
Vice-Chancellor (1963-1964) at the University  of Guyana, and as Professor and Head of the Department of Biology. He now lives in the United States.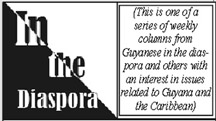 Dick Hart and I first met in November 1950,  on a beautiful Mona evening when he, Cheddi and Janet Jagan, answered our call to help the University College of the West Indies Students' Society launch its Political Discussion Group.  Within a few months of our first meeting, Dick became my tutor and guide, and generously made available to me all the political files in his old Tower Street Office, and especially those relating to the establishment, activities, and correspondence of the Caribbean Labour Congress. It was those reading sessions, and subsequent discussions with Dick, that contributed to my political education. It was in Dick's office that I first read about the development in Jamaica of Trade Unions and political parties, including the People's National Party (PNP); and about the role that he and others had played in laying sound foundations for progressive development of the PNP. I read about the work of Dick and his young associates at the end of the Second World War, in establishing the Jamaica Youth Movement, and in organising conferences of young people from all over the West Indies. Among Dick's files, I came across reports on similar work that had been done in Trinidad by Beryl McBurnie, Lennox Pierre, Jack Kelshall and Pearl Connor in organization of the Trinidad and Tobago Youth Council, and the 1947 Caribbean Youth Conference.
Dick also had a copy of "Now We Know", that inspiring anti-colonialist essay written in 1944 by the Jamaican Roger Mais, for which he was tried for sedition and sentenced to six months imprisonment:
That the sun may never set upon privilege, repression and exploitation and upon the insolence and arrogance of one race to all others …That the sun may never set upon the great British tradition of Democracy which chains men and women and little children with more than physical chains, chains of ignorance and the apathy of the underfed, and the submissiveness, which is a spiritual sickness in the thews and sinews of a man; chains them in dungeons of gold mines and silver mines and diamond mines, and upon sugar plantations, and upon rubber plantations and tea plantations. For the great idea of Democracy which relegates all "niggers" of whichever race, to their proper place in the scheme of political economy…
Of much more lasting importance than the rhetoric of individuals, was what I learnt from Dick's files, pamphlets and leaflets, about the establishment of the Caribbean Labour Congress (CLC) at a 1945 conference in Barbados of West Indies trade unions and political parties. The CLC was the very first Caribbean organization to issue the clarion call for an Independent West Indies Federation, in which all the unit territories would be fully self-governing. What impressed me greatly was the emphasis given, even at that early discussion stage, to economic development, as the center piece of purposeful activity of a Federated West Indies. As CLC Secretary, Dick also had reports on the 1947 Jamaica Conference of the organization, at which the 1945 decisions were confirmed, and a fairly detailed structure approved for any future Federal Government. I could not help but notice how different was the CLC approach to a West Indies Federation from that being sponsored by the British Government at the Closer Union Meeting in Montego Bay at about the same time. The Colonial Office was promoting a Federation without Independence, in which only some territorial units would be self-governing.
Dick's files told me the story of the infamous 1948 speech by the President of the CLC Grantley Adams, as a member of the British delegation to the UN Trusteeship Council, in which he strongly defended British Imperialism, and denounced the alleged "dictatorship" of the Soviet Union. For that act of betrayal of the unity of anti-imperialist forces, Adams was vehemently criticised by political and trade union movements in colonies the world over; by the Secretariat of the CLC, the majority of its affiliated member organizations, and by the London Branch of the Caribbean Labour Congress.
It was from Dick that I also achieved some understanding of how the international socialist movement had become organized at the end of the Second World War, on the basis of special interest groups such as trade unions, youth, students, women etc.- within the global community. But it was our experiences over the three years 1951-1953 that made us appreciate fully the enormous impact of international capital on political events in poor countries at the periphery of the global system: in Jamaica, Norman Manley's expulsion of Richard Hart and the other 3H's under threat by the PNP's right wing to 'Red smear' the Party, and thus to win favours from US ruling circles; in British Guiana, the Imperial Government's suspension of the Constitution and dismissal of the PPP Government, under pressure from British plantation owners, using the excuse of  Communism in B.G. After careful consideration, a decision was taken to establish the People's Educational Organisation (P.E.O.), and at the inaugural  meeting Dick was elected Chairman, and I, Secretary.  Dick had always considered popular education to be critically important to raising the level of political consciousness in the community, and to a people's empowerment. His first publication Origin and Development of the People of Jamaica was dedicated to that end. The PEO executive approved his idea to test the proposal to hold Street Lectures in West Kingston on Slave Revolts in Jamaica, based on his manuscript then in preparation, and later published as The Slaves Who Abolished Slavery.
Within the PEO we organized a Bookshop and Reading Room, held regular Members' Meetings as well as Discussion Meetings on specific topics, one of which Dick considered to be of prime importance: a debate on the type of Political Party  that needed to be established. At the end, although a majority was in favour of a National Party under Marxist leadership, a substantial minority wanted a Workers' Party. The results of that debate prompted our concurrent establishment of the People's Freedom Movement in 1952. Two things Dick insisted on: one, was that the PEO was collectively owned by its Members, and was not the property of any single person, be he or she an executive member or not; after an open discussion of any issue, the majority view should always prevail. In the case of the Workers Party minority, they eventually established the Communist Party of Jamaica, under Chris Lawrence's leadership. And there again, Dick's generosity of spirit shone through: despite their political difference, he remained personally friendly with Chris, and never sought to belittle him to others.  That was the 'secret' of Dick's persistent friendships with a wide variety of persons on a broad spectrum of ideology. In the case of the PNP he published a pamphlet praising the very positive aspects of Michael Manley's regime; and in the end was unanimously welcomed back into the Party. Dick once told me (and I wouldn't at all be surprised if he said the same to others), if you have an argument with a comrade, never allow it to become so heated that you make it impossible for any future rapprochement. Name-calling and abuse must stop well within the line of no recall.
Kathleen and I were married in August 1954, with Dick in the role of "father-giver." He took us over to Port Antonio to join our ship to the U.K., and we remained in touch over the next four years. As soon as I had secured my first degree we both wanted to return as quickly as possible to British Guiana to join in the political struggle. One alternative presented itself- to remain in Edinburgh to undertake research leading to a Ph.D. We sought Dick's advice which was prompt, forthright and memorable: "There is no doubt that you should take the alternative route: B.G. will always be there, let the present wait on the future."
Having completed successfully my research years at Edinburgh, and a year of service in Nkrumah's Ghana, I at last had the long-awaited opportunity in late 1962, to return home to BG – at Cheddi Jagan's invitation— to help establish the University of Guyana. I wrote Dick all about it, but what I did not tell him was that I intended to visit him without notice in mid-1963, on my way home from a visit to the U.K. for discussions with our Vice-Chancellor designate, Lancelot Hogben. I planned my itinerary so as to enter Jamaica via Montego Bay: to test whether I could evade the ban on my entry to Jamaica- which had been in operation since 1958.  I landed at Mobay, and went on to Kingston without any interference, and the very next day visited with Dick and his wife Avis. He brought me up to date on Jamaican politics and current organization of "left forces" which included the establishment of the Socialist Party of Jamaica the previous year. I told Dick all about my year at the University in Kumasi, my role as Cheddi Jagan's unofficial personal representative; and about planning for the University in the political context of BG.  I also suggested to Dick that he might wish to consider joining us, with responsibility for Adult Education/extramural work. He was very attracted by the possibility, and Avis seemed to be quite amenable to the idea of moving. As it turned out, the Jagans had already made preliminary plans for Dick to undertake the much more important role as Editor of the PPP newspaper The Mirror.
In early November 1963 Dick and his family traveled to Guyana. The inaugural meeting of the University had gone off without a hitch on 1st October, but by the end of that month, the BG Constitutional Conference in London  had ended, with an unfortunate concession which gave the Secretary of State the right to determine the arrangements for Guyana's national elections. There was little doubt that he would opt for Proportional Representation (PR), as a way of ensuring victory of the opposition, and removal from Office of Cheddi Jagan – the architect and chief political patron of the University.
As we started out for Georgetown, I did not hide my despondency at that tragic turn of events, and Dick decided to change the subject of our discussion by telling his amusing story of how he had secured a new Jamaican passport. He had appealed directly to Bustamante, telling him the simple truth that he would be traveling to BG to be Editor of The Mirror. Right wing politicians, Dick said, seldom if ever forget even the smallest gesture of solidarity with them. In giving instructions to his Home Affairs Minister Roy Mc Neill, "the Chief" had reminisced rather loudly about Dick's leadership of a protest demonstration in the streets of Kingston in 1940, demanding Busta's release from detention. He insisted to McNeill that a new passport should be issued immediately "to Richard, but it must be limited in validity, solely for travel to BG", since he didn't want Dick going to "Russia or any of those other Communist countries." Dick said that kind of behavior was almost never exhibited by left-wing leaders, who seem to feel that support and solidarity towards them was their due, and did not require any show even of memory, far less reciprocity.
Part 2 of this tribute will be carried next week.
Around the Web