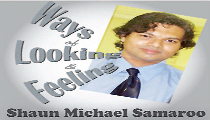 We see the impact, across the Guyanese nation, of that devastating, world-record brain drain of 87 percent of our skilled knowledge workers migrating to societies where they could fast achieve their dreams.
Our fundamental problem remains that dire blood-letting of skilled Guyanese knowledge workers: nurses, teachers, mechanics, and especially the bright young.
This is our biggest problem: the Guyanese brain is in big demand around the world. In America, Canada, the Caribbean, Europe, our people migrate and build solid lives, working hard, employing initiative, resourcefulness and intelligence to climb the global ladder of success. Many Guyanese start off their new life in a new land at the very bottom of society, and rise to achieve astonishing feats.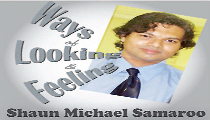 Guyana, the homeland, in the 21st century, now finds itself competing for its own, the Guyanese brain, the knowledge workers who make up the vital human resource capital of the country. It's a critical bleeding of the body politic, now constituting our most pressing crisis.
This problem smacks head-on into a massive confrontation with the most urgent need of our times: the creation of Guyana into a world-class Knowledge Society.
That's the task facing us at this critical hour, these early days of the 21st century when the global village fast transitions from the old Industrial Age of mechanical specialization, into the Knowledge Age of individual empowerment.
Adam Smith's thesis, in his book The Wealth of Nations, defined 200 years of how nations worked and developed themselves. Now, with deeper insights into the human condition, with fresh-thinking folks like Peter Drucker, whose ground-breaking idea that Mankind lives for aspirations, rather than just needs and wants as Smith had laid out, are defining how people work and live.
Guyanese migrate because they aspire for a certain kind of lifestyle. They enjoy this in the public space in New York, Toronto, Barbados, places comprising lush parks and clean streets and well-designed cities, flooding the human heart with a sense of deep fulfilment.
At home the average Guyanese seeks to migrate: despite the fresh, unpolluted air and a steady breeze off the Atlantic Ocean, fresh vegetable and fruits, and that peaceful pastoral beauty enshrining villages across the country, from Essequibo to Berbice, and also the Rupununi and hinterland, with a quality of life, close to nature, unknown in most parts of the world.
Guyanese now feed, house and clothe themselves with ease and comfort. But we aspire.
We achieved our primary concern of basic survival. We now aspire to own fancy homes and new cars, as we've moved to secondary concerns of elevating our lifestyle.
Many Guyanese now own their own solid concrete home and a decent car.
Yet, something is still very wrong. We see national problems generate strife and paranoia and distrust and acrimony of the most uninspiring sort, among our leaders, and most Guyanese citizens say that the Georgetown City Hall and the Guyana Parliament, our two most important institutions, are failing terribly.
Government itself fails to generate across the society an image of the Guyanese homeland that inspires the human heart. Instead, we see bitter words of argument and accusation across the political camps, with harsh words flying about, as Opposition and Government square off in confrontation and acrimony and loud quarrels.
If we want to generate solutions to the problems we face, we must learn the art of conversation, of reaching out to each other, of embracing our differences with respect and professional integrity.
In fact, several members of the Government have shown they are open and amicable and ready to reach across divides to make new things happen, to generate solutions. Education Minister Priya Manickchand, Youth, Sport and Culture Minister Frank Anthony, Attorney General Anil Nandlall, Dr Roger Luncheon, and President Donald Ramotar, all demonstrate openness and a sincere spirit of cooperation.
In the Opposition, we see such openness in Parliamentary Speaker Raphael Trotman. And from Moses Nagamootoo and Khemraj Ramjattan, both Members of Parliament in the Opposition benches, we hear words of healing and reconciliation. Opposition Leader David Granger has also hinted at a tone of conciliation and working together.
So we're seeing signs of a major turn-around in how we approach each other, in how we see each other.
In the interest of getting over our penchant for complaining, where the national stage becomes littered with negative talk and loud cussing out of each other, where our national media report on what's wrong with us, we must fuel whatever positive spark we see ignited in the national state of play.
Generating solutions: that's the crucial task at hand. And, thankfully, we see that attitude starting to take hold.
Even civic-minded citizens are starting to take initiatives. In the BlueCap youth leadership development initiative of Clinton Urling, in the Culture initiative of national writer Ruel Johnson, in Government coming up with a series of solutions, even with the Presidential Commission of President Ramotar to probe the three-plus decade old death of Dr Walter Rodney, in the ongoing community work of Eric Phillips and Faith Harding and the Youth For Guyana's 'Shine Guyana' project funded under a US Embassy grant, we're seeing solutions, instead of complaining and inaction.
We hope these baby steps, in citizen and Government initiatives to get things done, to come up with solutions, would translate into a new, fresh way of being for the Guyanese nation, a new psyche of how we approach each other, and how we work together to build the future.
The Guyanese nation is well-positioned to fast-track its development into a Knowledge Society. This calls for a deliberate national strategy and action plan to foster human development of the individual Guyanese citizen. This demands that we work together.
If we were to develop Guyanese knowledge workers to populate our villages across this country, dwelling in the pastoral peace and blessed natural environment that is Guyana, we would solve that critical crisis of losing the Guyanese brain power to the global village: we would solve our most pressing problem, and cultivate a national atmosphere for Guyanese to enjoy living and working at home, achieving our life's aspirations as Guyanese, in Guyana.
Around the Web