By Jeanna Pearson
Fatima Martin, the 19-year-old babysitter sentenced to five years in prison for assaulting a one-year-old baby last week, was yesterday granted a bail release by the High Court, pending the outcome of an appeal of her sentencing.
Martin was granted her release on $100,000 bail by acting Chief Justice Ian Chang, even as the father of the child emphasised that his daughter was the real victim in his first public statement, while the magistrate responsible for the sentence denied allegations of bias.
Martin was given the maximum sentence for inflicting grievous bodily harm on February 11 to the infant, Sanjana Edmond, who is the daughter of Magistrate Geeta Chandan-Edmond and attorney Joel Edmond.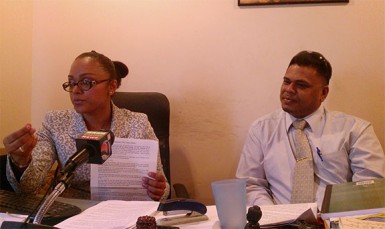 The 60-month sentence and the swiftness of the proceedings against her has sparked a public outcry and charges of bias against the presiding magistrate. Martin has also accused Magistrate Chandan-Edmond of assaulting her on multiple occasions after she admitted to the crime and she has alleged that the husband threatened her. Joel Edmond refuted these claims yesterday.
Martin's petition for bail was filed by her lawyer Sase Gunraj on Tuesday on the grounds that the decision of Magistrate Sueanna Lovell, who handed down the sentence, was "wrong, erroneous and misconceived in law."
In the petition, Charmin Martin, the sister of Fatima Martin, said she had been advised by her sister that she was "coerced and deceived into pleading guilty" to the offence for which she was convicted and sentenced.
The petition further stated that given the current state of the backlog affecting the judiciary, the hearing of the appeal against her sentence and conviction would likely not be brought to the forefront in a hurry. It added that Martin would have already served her time by the time the appeal comes up for hearing.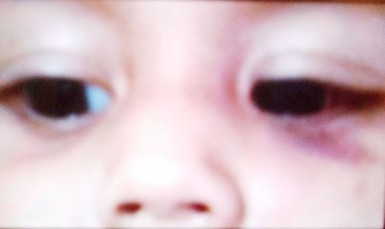 "A great wrong and injustice would have been suffered by Fatima Martin if she is exposed to the almost certain consequence of, in effect, serving her sentence before having her appeal determined," it stated.
It also stated that the prosecution evidence was woefully insufficient to produce a conviction and therefore the appeal has every chance of success.
After the successful petition, Gunraj told Stabroek News that efforts were being made to take Martin to a safe place. He said accommodation would be provided upon her release. She would be receiving help from Guyanese James Samuels, who is a United States resident.
When asked about the allegations she had made against her former employers, Gunraj said that they will be taking steps to examine those accusations.
Meanwhile, Magistrate Lovell, when approached after a special sitting of the Caribbean Court of Justice in honour of  Justice Desiree Bernard, about the criticisms she has received over the judgment handed down, refused to comment. She said, "I don't think that it would be appropriate for me to comment at this time. I understand that the matter is the subject of an appeal and I prefer to let the appeal take its course."
However, when pressed by reporters to answer if she showed any bias against Martin, given that the victim was the child of a magistrate, she responded, "I understand how the perceptions would be but that is not the case."
Magistrate Lovell explained that she had acted within the confines of the law when she was questioned if her judgment was fair. In her notes in the case file, which were released yesterday by Edmond, she had written that Martin was sentenced to five years due to the "egregious nature" of the injuries, the age of the child and the fact that there were no mitigating factors. Magistrate Lovell's notes indicate that Martin said she committed the crime because she got "vexed" and she showed no remorse for her actions, "which negated any mitigating factors peculiar to her."
 'The real victim'
When Martin's case came to the public's attention, the Guyana Bar Association (GBA) decided to inquire into it to determine whether it should provide pro bono services to the woman. She subsequently gave statements to GBA members Mohamed Ali and Christopher Ram at the Beterverwaging Police Station, admitting to committing the crime but also alleging that she was assaulted by Chandan-Edmond and threatened by her husband.
However, speaking at a press briefing on behalf of Chandan-Edmond and her husband, their attorney Latchmie Rahamat denied the claims and was aggrieved that the media and public had turned Martin into the victim when the real victim was the one year-old baby.
"She is a one-year-old baby. She is the real victim in this matter concerning Fatima Martin. Fatima Martin was charged with inflicting grievously bodily harm on this one-year-old baby. There has been a lot of comments in the media over the past few days in relation to the severity of punishment which was issued to Miss Martin but that falls within the purview and discretion of the magistrate, who, at the appropriate forum, will have to defend her reasons why she decided to impose that sentence," Rahamat said.
"The medicals don't lie. We have a one-year-old baby, who, when her parents left the home, was healthy and bouncing… had no marks of violence on her person. Then we have, when the parents returned home, an infant with clear visible signs of trauma and injury to her person. The one-year-old cannot tell us what happened to her. She cannot speak for herself. She cannot tell her mom and dad what happened. She cannot tell the police what happened," she stated, while pointing out that the medical certificate revealed that there were multiple blunt traumas to the child's face and cheeks. "They speak of lacerations and injuries consistent with strangulation. Strangulation of a defenseless infant who cannot speak! I believe that the public needs to understand that in the matter of the police against Fatima Martin, the victim was not Fatima Martin. The victim was a one-year-old baby who couldn't tell us what happen to her," she added.
Rahamat said that Edmond made it clear that he and his wife never acted inappropriately and that independent witnesses were present from the time of Martin's confession to when she was arrested. "Yes, he is an attorney-at-law but when this happened to his daughter he became like any other Guyanese whose daughter was injured by a third party. He did not take the law in his own hands and he reported it to the police," she said.
Magistrate Chandan-Edmond was not present at the briefing but her husband Joel Edmond, who was present, answered the allegations made by Martin about their treatment of her after she confessed to the crime as well as the conditions of her employment.
 Misrepresentation
Edmond, recalling the day the child was injured, said his wife received a text message from Martin indicating that she should return home since something had happened to the child. He said when they called her, she told them that the child had fallen off the bed and that one of her eyes had blood.
"When I saw my innocent, fragile, defenceless baby that day, her left eye was swollen with the skin around the eye discoloured to shades of black, blue and purple. The left eye itself was red with blood all around. Her cheeks on both the left and right side had cuts and discolorations of black, blue and purple," he said.
He added that he immediately rushed her to the hospital and the medical report contradicted Martin's story. He said that the report showed that the child was strangled and suffered from a series of medical injuries, which were a result of blunt trauma. Her injuries included bilateral conjunctivitis and internal hemorrhage—which mostly likely could have serious intracranial consequences.
He said Martin subsequently claimed the child fell and hit her head on tiles in the bathroom but further medical examinations continued to contradict the claim and suggested that the injuries were the result of repeated traumas.  He said he confronted Martin, who then admitted to hitting the child. "Ms. Martin told me, 'Sir Joel, I want to tell you the truth, I cuff up the baby,'" he said.
According to Edmond, he immediately called the police and when they arrived Martin confessed that she struck the infant because she was "vexed" because the baby did not want her to change her pampers. After her confession, he said she was immediately taken to Sparendaam Police Station. He stated that after lodging a formal complaint he returned home. He said it was the last time he saw Martin before she was brought to court.
Edmond said that he was present when she appeared in court to answer the charge of inflicting grievous bodily harm on the baby. He said that the charge was made indictable and the prosecution had made an application for the matter to be tried summarily. He added that Martin had indicated that she wanted her case to be tried in the Magistrate's Court.
"The charge was then read again read over to Fatima Martin and she was now required to plead. Fatima Martin entered the guilty plea to the charge read," he said, adding that when the magistrate asked her why she would hit a "defenseless baby who was in her care" she replied that she was "vexed."
"When Fatima Martin was before the court, she showed no emotions and spoke coldly as she told the court what she did. She never once said sorry for what she did," he further stated, adding that neither him nor his wife had any part to play in her sentencing. "Neither I nor my wife ever considered attempting to influence the presiding magistrate in any way," he said.
Addressing the assault and threat allegations against him and his wife, Edmond questioned why Martin would wait so long to reveal the claims. He noted that at the court hearing, the magistrate had asked her repeatedly what she had to say and she never told the magistrate that she was assaulted. "I believe that it is a matter of convenience that almost a week later after giving the police a written confession to beating my child that Ms. Martin now seeks to cast aspersions upon the character of my wife and myself," he said.
Edmond added that he was shocked that human rights NGOs were protesting against the sentence when a few weeks ago they were fighting against violence meted out to children. "My wife is traumatised by these allegations and nobody is trying to find out what really happen and now we have to watch our daughter 24/7 because she might not wake up," he later told Stabroek News over the phone.
He lashed out at the NGOs that protested on Monday, stating it was ironic that they were crying out for equality when his daughter was the person that suffered. "Because my wife is a magistrate she shouldn't make a report that her child is abused? I'm a normal father and I made the report…. and these organisations are being bias because they are acting nonsensical and taking sides. What they are accusing the magistrate for doing they are doing right now," he charged.
Edmond said too that it was a malicious misrepresentation to say that either he or his wife trafficked Martin from Lethem to work with them. He said the young woman responded to an advertisement that they placed for a live-in nanny. She got the job, he said, after she followed up with them after an initial interview and indicated she was desperate for the job and prepared to start immediately. He noted that Martin was never required to sleep in the same bed with the child since she would be relieved of her duty when his wife returned from work. "In fact every night the baby would sleep with my wife and me," he said in his statement. "Her job was to precisely and only to take care of the child… she was sleeping in an air conditioned room with all the adequate facilities," he added.
Edmond also denied the claim she was being paid $17,000 every fortnight and had been working under oppressive conditions. He said that the teen was not given additional duties and was only tasked to babysit the infant, for which she was paid $10,000 per week, while receiving food and lodging.
He also noted that during the woman's employment, they gave her money to take her sister to a doctor and they also helped Martin to get medical attention for a growth over one of her eyes.
 'Closed door hearing'
In her statement, Martin said that on February 12 she was questioned about the injuries on the infant and then later admitted to a policeman at the Edmond home that she had hit the child. She said that the police left the room  and told them what she said. "Ms. Geeta then said you hit my baby then proceeded to slap and hit me on both sides of my face, cuffed me in my head and hit me with the baby bottle full of feed," she said, noting that the police did nothing.
Martin said that when she went to collect her clothes, Chandan-Edmond threw her clothes on the floor and stomped on them. "She pulled my hair and began to cuff me. The female officer who was downstairs heard the noise Ms. Geeta was making upstairs and came and asked Ms. Geeta to desist but Ms. Geeta continued to hit me on a lump I was born with on the left side of my head saying that she will make it turn cancer," the woman added.
She stated that she was taken to a female lock up. The following day, February 13, she said she was beaten again while a policeman was taking her statement.
The next day she said she was brought before the court at Sparendaam. She said that up to that time, she was not aware of the charge against her or advised or any rights she might have. "The magistrate did not ask me to make any statement, whether I had a lawyer or whether I wanted to say something," she said.
After she was sentenced, Martin told a relative that she was beaten. Speaking to Stabroek News yesterday, Gloria Johnson said that when she visited Martin at the prison she noticed the marks on her knees. "Marks of violence," she said, adding she was crying and stressed out by the sentence.
Her sister Charmin Martin stated that on the day she was brought before the court, a policeman started to clear the courtroom. She said that she was put out of the room and only the Edmonds and the magistrate, court officials and her sister were left in the room. "They closed the door and we couldn't hear anything. Is after everything happen that she [Martin] tell me that she got five years in  prison and she was crying. She doesn't know about court or what happens in it," a distraught Charmin Martin said. She said that at that time she did not have money to pay a lawyer.
Around the Web