A Canje taxi driver was yesterday remanded to prison after he was allegedly nabbed with over seven kilogrammes of cocaine concealed in pastries at the Cheddi Jagan International Airport.
Nicholas Harinandan, 37, of 103 Fort Ordnance, Berbice, pleaded not guilty to having 7.5 kg of cocaine in his possession for the purpose of trafficking on April 6, when the charge was read to him by Chief Magistrate Priya Sewnarine-Beharry.
According to CANU Prosecutor Oswald Massiah, on the day in question, Harinandan was an out-going passenger at the CJIA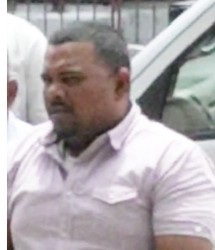 to the United States of America, when his luggage was passed through a scanner at the airport and the suspected illicit drug showed up. He said CANU officers on duty asked the defendant if he had packed the two suitcases himself and he replied in the affirmative. Massiah said the officer then commenced a search that resulted in a quantity of cocaine laced pastries being found. Cheese rolls, pine tarts and packages of mettai when broken, all had cocaine concealed in plastic, Massiah said.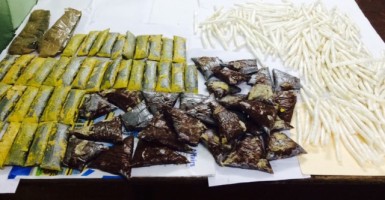 He added that a complete extraction was done and the suspected cocaine weighed in the defendant's presence. The court heard too that cocaine was also found in the sole of a Clarks shoe in one of Harinandan's suitcases. Harinandan was subsequently arrested and slapped with the drug trafficking charge.
Harinandan was later remanded to prison by the Chief Magistrate and the matter was adjourned. It will be called again on April 14 at the Providence Magistrate's Court where it was transferred.
This cocaine in pastries bust follows that of the cocaine in a quantity of Awaras which was destined for Canada a week ago. The drug smugglers formed and sprayed some cocaine filled balls to look like the bright orange fruit before mixing them in containers with genuine awara for shipment.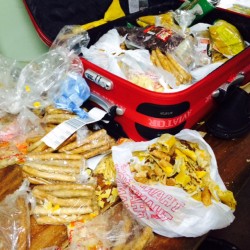 Around the Web