Mala Persaud who was left disfigured after being doused with acid in June last year says that she has lost the will to pursue the matter as the police are continuing to show no interest.
Though there has been a remarkable change in her facial appearance after three surgeries, she still avoids looking in the mirror and hardly goes out in public.
When Stabroek News spoke with Persaud at her home in Station Street, Kitty recently, her eyes watered as she spoke of the changes the attack has brought to her life.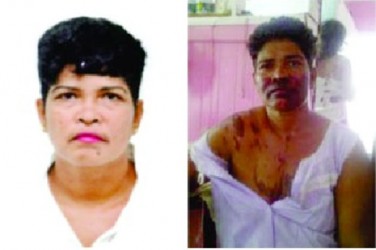 She said that she had heard nothing from the police. "Unto this day the police have not come back to even ask me how old I be…how I getting through. How I surviving, living or not," the woman said, adding that in February a surgery was done and another is due to be performed at the Georgetown Hospital.
She said that after spending almost $500,000 to have surgery done at a private hospital she was forced to go to the Georgetown Hospital since her funds were running low.
According to her the surgery that is scheduled will be to her nose to help improve her breathing. She said that for the purposes of the last surgery which was undertaken on February 3 a skin graft had to be done and she pointed to a huge scar on her left arm.
According to Persaud prior to the surgeries she was unable to breathe through her nose and now she can do so a little. "Right now this mouth like when it heavy heavy," she said.
She said that her recovery had been "real hard. Really hard." She said that she usually does household chores but would have to stop because she gets tired quickly. She said that because of the attack, she has no forms of entertainment and does not go out as she would like.
When she looks in the mirror, she continued, she feels terrible. "I thank God that I am surviving and I am still moving around but I don't feel too pleased with my face," she said, adding that she doesn't know if she will look any better when the surgery next month has been completed.  She said that her face may look better but "it's the feeling of me. I gotta be walking like a child with a rag all over the place. Sometimes I feel as if I am dribbling." She said that at night she has to sleep with a rag to wipe her face which feels numb all the time.
She said that there are many nights when she can't sleep – "I does gotta force myself to sleep" – and that she wakes at 4 am every morning to cook lunch for her family. The remainder of her day is spent indoors either relaxing or doing household chores.
Persaud said that she doesn't go out a lot. She just goes to clinic then back home, although at night she would venture outside to take in some fresh air. She explained that she feels uncomfortable among people and would sit by herself when she does attend clinic.
She told this newspaper that her speech has improved a lot as shortly after the attack she was unable to open her mouth, and although she can now eat solid food she had to eat "like a child." However, she is unable to chew bones. She said too that she is relieved that the acid did not affect her eyesight.
Persaud noted that the doctor is monitoring her condition closely as she is a diabetic.
This newspaper noticed that there were countless scars on her chest, arms and legs, and she said  she is using her own home remedy to try and get rid of them. In comparison with a few months back when Stabroek News spoke to Persaud, her face is not black any longer and it is mostly the left side of it which has been disfigured.
 Too emotional
Her voice now dropping almost to a whisper, Persaud told Stabroek News that it is emotional for her to talk about her situation because all she did was to speak up for her rights and was victimized in the process.
The victimization she refers arose from her constant complaints about the noise emanating from a bar located near her residence. Prior to the acid attack she had made several complaints to the police, the Ministry of Home Affairs, the Office of the President, the Office of the Prime Minister and the Police Complaints Authority (PCA) about the loud music which blared from the bar on an almost nightly basis.
Those complaints were ignored and it was believed that this was because of the association of those who owned the bar to persons who held high office.
She believes that the attack was the work of those who owned the bar.
Persaud told this newspaper that there are many nights when the noise is unbearable and she is forced to call the police but nothing is done. She recalled that recently a car with music blazing was parked in front of her home. She said that on several occasions she made contact with the police but to no avail. "We don't have justice in this country…it is a waste of time calling the police," she said adding that she will not be running behind the matter any more but would instead leave it in the hands of God. "It is pointless. It doesn't make sense…" she said, going on to comment that poor people have no justice to get. "I will just sit in my corner and say 'God you be my judge,' I wouldn't fight things, I leave it in the hands of God."
She said that in February she was forced to block the off the area in front of her home with chains so as to prevent the customers of the bar from parking there.  She said too that she had to cut down all her flower trees as customers at the bar would urinate on the plants. "You can't have your plants out there. They tekking it and making it their urinal," she said.
She said that she and her family would keep in a corner and trouble no one. "This is a country where you cannot talk for your rights."
Reports are that on June 1, Persaud was taking the family's car out of the yard when a man with an umbrella and a tea cup in his hand arrived and called for cigarettes. This was some time between 7.45 am and 8 am.
The woman responded that she did not sell cigarettes loose. The man then said "watch this thing" before throwing the contents of the cup at her. The liquid burnt her face, shoulder, back, leg and chest.
The man then ran towards Vlissengen Road where the yellow taxi he had arrived in was waiting. Persaud had told this newspaper that the attacker strongly resembled a man she had seen the previous night in the vicinity of the bar.
Around the Web